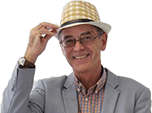 MoT Test Results and MoT Advice
Dacia has best pass mainstream maker pass rate; Audi Q3 best model with 91% MoT pass rate 
Where our MoT Test data is from, what it is, and how it can help you
The data within our MOT Files are MoT test results that are collected by the DVSA - the body charged with running the MoT Test system in the UK.
Although the DVSA makes the MoT test data available, it's not easy for the public to access - and that's where HonestJohn.co.uk comes in.
We've put in the legwork to clean-up that data - a database of more than 400m MoT test results - to show you which makes and models are most likely to pass their MoT and, crucially, what they fail on.  
1
What could your car fail its MoT on?
Click below to find MoT pass rates by make and model and details on what your car is likely to fail its MoT test on, based on Government data. All makes and models up to 2014 are listed.
2
Get the details of MOT results by make, model, and year
 Top 10 cars for passing their MoT test
 

Audi Q3 - 91.0% MoT test pass rate

The most successful model in our list is the Audi Q3 with more than nine out of every 10 cars tested in 2016 passing their MoT. That's impressive when you consider 20,675 cars were tested. The most common item for failure was tyres, with a failure rate of 3.8 per cent.

 

Vauxhall Mokka - 90.4% MoT test pass rate

The Mokka has proved a very popular seller for Vauxhall. More than 15,750 were tested in 2016, with 3.5 per cent of MoT failures down to the driver's view of the road, which can be anything from a cracked windscreen to a broken mirror.

 

Mazda CX-5 - 89.2% MoT test pass rate

It may not be the most exciting of crossovers, but the CX-5 is an easy to live with family car that's comfortable and affordable to run. Launched in 2012, close to 8000 were tested in 2016 - many of those being the first MoT - with the top reason for failure being tyres.
See which models complete this Top 10 list
Bottom 10 models for passing their MoT test
 

Fiat Multipla - 41.5% MoT test pass rate

Unlike a fine Italian wine, the Fiat Multipla hasn't got better with age. In 2016, a third of all Multiplas tested failed for suspension. Even the newer models - built in 2011 - have a 9.2 per cent failure rate on suspension, 170 per cent worse than other 2011 cars. 

 

Daewoo Matiz - 41.6% MoT test pass rate

The Daewoo brand is no more in the UK and as a low cost car when it was new, it's little surprise to find the dimunitive Matiz struggling at the annual MoT. The most common reason for failure is headlights and electrical issues, followed by suspension. 

 

Citroen Saxo - 43.0% MoT test pass rate

Even the newest Saxo models are now over 13 years old now, so it's no shock that 31 per cent fail on headlights and electrical issues while older models tend to fail far more frequently for suspension issues. Generally, the Saxo does about 20 per cent worse than other cars of a similar age.
See which models complete this Top 10 list
 Top 10 reasons for MoT test failures
 

Lamps, Reflectors and Electrical Equipment - 17.8% MoT test failure rate

Lamps, reflectors and electrical equipment account for the biggest number of failures, with 4.5m vehicles caught out each year. Perhaps not a huge surprise as so many modern cars make it difficult to perform even the most basic maintenance work on the driveway. 

 

 

Suspension - 12.1% MoT test failure rate

Manufacturers have been working overtime to improve the ride and handling of their vehicles. But it  appears these complex, harder-working systems are wearing out quickly. You'll notice a problem if you hear a knock or a clonk.

 

 

Brakes - 9.5% MoT test failure rate

Out of adjustment handbrakes are a common occurrence - and not just an annoyance when parking but a genuine safety concern. Not an easy fix if the cable is broken, although some cars are reasonably easy to adjust - so keep an eye on yours if it starts to play up.

 
See which other reasons make up the Top 10
1
10 Tips for passing your MoT
The MoT test is an important safety check for your vehicle. By law, a car must have an MoT on the third anniversary of its registration and then every 12 months after that. Only cars registered before 1960 are exempt from compulsory roadworthiness testing. However, from May 2018, all cars more than 40 years old are exempt from the annual roadworthiness check.
Take your car to a reputable garage
In an ideal world, all MoT centres would be open and honest- but we've all heard horror stories about garages using the annual test as an opportunity to make money by forcing you to pay for unnecessary work. That's why HonestJohn.co.uk launched the Good Garage Guide to make it easy to find a trustworthy mechanic on your doorstep. 
You can also take advantage of council-run MoT test centres. These centres might not offer servicing or repair work, but they will give you an unbiased assessment of the legal roadworthiness of your car. If you fail, simply take your car to a local garage and return to the council centre for the retest.
Nearly one in five cars will fail the MoT due to problems with their lights. In most cases, the issues are simple and easy to fix. For example, checking you don't have a blown bulb is easy. Simply make sure your lights work on all settings (parking, dipped and mainbeam). You can also point your car at a garage door when it's dark and check that the beams are not too high or low, and that they are correctly aligned.
Replacement bulbs are fairly cheap and you can change them yourself if you have your vehicle's handbook. If not, many garages will change your bulb for free. To fail an MoT for a bulb can be frustrating and sometimes costly.
3
Top up the screenwash and inspect the wipers
Windscreen wipers and screenwash are another basic check, yet thousands of cars fail on this relatively minor issue every year. Windscreen wipers should operate smoothly and be replaced when the wiper blade rubs or smudges the screen. An empty screenwash bottle is also a fail so check your level - some garages will charge up to £15 to perform a simple refill.
Damage to the windscreen could also result in a fail, so make sure you look for any cracks and chips in the glass in the driver's line of sight and have them addressed before you visit the MoT station. Your rear-view mirror must be adjustable and in good condition too. 
4
Tyre depth and condition
The most obvious aspect of tyre safety is tread depth, which is the deepness of the main grooves that cover the circumference of wheel. From new, the depth of tread will be around 7mm - while the legal limit is 1.6mm.
Perform regular checks to ensure that the tyres are not damaged or worn. Feel for lumps or bulges in the sidewalls as these will indicate internal damage. If they look worn, inspect the tread depth and ensure it's above the minimum requirement. Many tyres have tread wear indicators, which are hard, raised bars at the bottom of each groove. When the tread is level with these bars then the tyre will have reached the legal limit.
5
Brake check and replacement
Faulty brakes account for roughly one in 10 MoT failures. The tell-tale signs are easy to spot when you're behind the wheel, with a spongy pedal feel being the most obvious sign that your car might have a problem.
Likewise, if you hear any scraping or squeaking noises under braking, or if your car pulls to one side, then chances are that there is a problem. You can peform visual checks for excessive brake pad wear and low brake fluid (at the reservoir).
6
Clean and inspect the registration plate
The number plate should be clean, undamaged and the lights around it working. If the registration plate is faded, dirty or not secured properly, it can fail the MoT. Note also that if the letters or numbers are incorrectly spaced, the car will also fail the test.
It might sound like a small detail, but a surprisingly high number of vehicles fail because the lights around the plate not working. It's important to be able to see the numbers at all times, so check these components before the test or risk an annoying - and usually costly - MoT failure.
7
Exhaust and emission issues
A noisy exhaust probably means it's cracked or rusty, and your car will fail for this. Blue or black smoke from your car's exhaust will also probably result in a failed MoT. But it's the smoke you can't see that the tester is interested in, this is tested to ensure that it doesn't exceed recommended levels of carbon monoxide and hydrocarbons.
Car servicing replenishes the fluids and components that are used to make sure the engine runs smoothly. If left without routine maintenance, the car's performance will suffer, causing it to burn more fuel and create excess emissions.
It might not kill as many cars as it used to, but corrosion is still a major MoT stumbling point. Surface rust on its own should not cause a fail, but if the bodywork moves or reveals a hole when pushed then it will be deemed a fail. 
If it's rusting, make sure that it's not near any structural areas or seatbelt mounts. And if it's in a non-structural area, such as a wheelarch, make sure there are no sharp edges.
You can tell a lot from a car's overall health by how it steers. Does it pull to one side? Does the car wallow when you change direction or does the steering column make knocking sounds? 
Take a few moments to drive along a straight road and gently steer from side to side to see how the car behaves. Excessive play in the steering could indicate insecurity within the steering column or a worn steering rack. Likewise, rattles or knocks could suggest that the rubber bushes are on the way out. 
10
Find the best time to have your MoT done
Some people say that the MoT and service should be done at the same time as this saves having to take two days off work or waste two valuable Saturdays to have your car tested.
Others say get them done separately. Having your MoT done six months before it's due for a service can save you money, according to MotorEasy - however this is dependent on how much work needs to be done and how much time this will take. The best advice is to work out what's the best timeframe for you.
MoT tests by postcode
As well as showing you pass rates by make and model, we can show you what the MoT pass rate is like in your local area. Does it make a difference? Yes, is the answer. We explain why and have a table of MoT pass rates by postcode here.

View MoT Data By Postcode in a larger map
Why a four-year MoT test exemption puts lives at risk
Controversial planned changes to the MoT test will increase the number of unsafe vehicles on Britain's roads, according to new research from HonestJohn.co.uk.
The Government's plans to extend the annual roadworthiness test from three to four years – which is currently undergoing a consultation period - could mean 385,000 vehicles that would have failed their first MoT will slip through the net and remain on the road unrepaired.
HonestJohn.co.uk analysed millions of MoT records from the Driver and Vehicle Standards Agency (DVSA) and found that one in six cars were refused their first MoT, with most failing due to unsafe brakes, lights and tyres.
The revelation comes as HonestJohn.co.uk published the MoT Files for the first time in three years, following a Freedom of Information (FoI) request and protracted fight with the DVSA to make the data public. Success in this long-running battle means that for the first time in years owners and prospective buyers once again have detailed access to the latest MoT records and reasons for failure. 
Continued: Why the first MoT test must not change to four years
Top 10 cars to pass their first MoT test
 

Lexus RX 450h - 94.2% MoT test pass rate

Japanese cars have long been renowned for their durability and build quality so it's no surprise to see a Lexus topping this list. The RX came as a hybrid only, something which has continued with its successor and that only now are other manufacturers copying.

 

Honda Jazz - 93.3% MoT test pass rate

The Honda Jazz has been a strong performer in the MoT files previously so it's no surprise to see it here again. Practical, affordable and proving to be well built, the Jazz is the small car we find ourselves recommending to people on a regular basis. 

 

Mazda MX-5 - 92.8% MoT test pass rate

With Mazda rounding out the top three here, the long held perception that Japanese-designed cars are well engineered, certainly rings true. The MX-5 is our favourite sports car, not because it is especially fast, but because it's great fun to drive and easy to live with every day.
See which models complete this Top 10 list
Bottom 10 cars to pass their first MoT test
 Peugeot 5008 - 67.2% MoT test pass rate

Propping up the table, the Peugeot 5008 is the worst performer here by some margin. It replaces another French MPV - the Citroen Grand C4 Picasso - which was bottom last time round. The most-common causes of failure are problems with brake lights, headlights and tyres.

 

Citroen DS4 - 73.1% MoT test pass rate

DS may now be a standalone brand, but in 2013 these models were still part of the Citroen range. And not doing at all well in their first MoT with more than a quarter failing. Tyres were one of the main causes while the DS4 suffered from issues with brake hydraulics too.

 

Renault Megane - 74.5% MoT test pass rate

While French manufacturers have worked on their collective reliability in recent years - the fact remains that the three worst cars for passing their first MoT in 2016 are French. The Megane tends to fail on problems with suspension, drive shafts and CV joints.
See which models complete this Top 10 list
MoT test pass rates by year of registration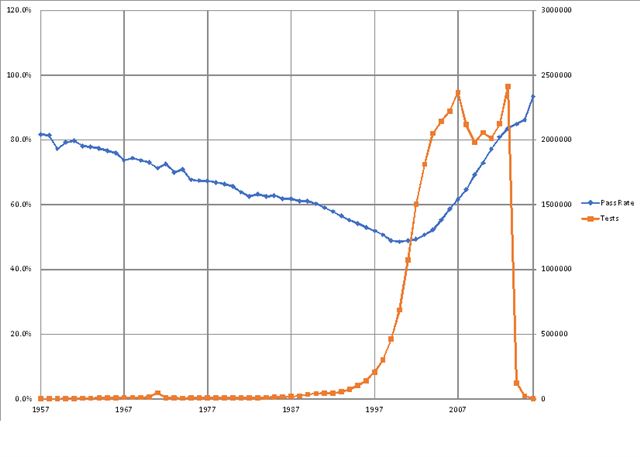 The year of registration and MoT test pass rate data gives an indication of the point when cars turn from being 'old bangers' to cherished, soon-to-be modern classics.
The turning point is the year 2000. Cars registered in this year have the worst MoT pass rate of any since 1980, which points to this being the year when owners either scrap their cars or invest in maintenance for their pride and joy. The pass rate increases again in 1999 and then continue to rise all the way back to 1980, though the number of tests being carried out falls significantly. 
Of all the cars registered in the 1980s, it's the Ford Sierra that tops the chart, with the classic repmobile boasting a 77.8 per cent MoT pass rate. Hot on the heels of the Ford is the Porsche 911, with a 74.8 per cent pass rate, while the Ford Escort is third with seven out of 10 scoring a pass.
Porsche does well in the 1990s too, with the 911 once again topping the chart with a 78.8 per cent pass rate, which is joint first with the Mercedes-Benz SL while the Boxster takes third with 68.6 per cent of cars passing. In fact, when it comes to top 10 cars from the 1990s, Mercedes-Benz takes four of the top 10 slots, while Jaguar flies the flag for Blighty with three entries.
It's worth noting, however, that cars from the 1980s and 1990s are predominantly owned by enthusiasts, which explains why they are meticulously cared for and boast such a heady pass rate. 
For everyday car buyers the MoT champions are somewhat less illustrious and exotic, with family crossovers and city cars dominating proceedings. The UK's best car for passing the MoT is the Audi Q3, with an average MoT pass rate of 91.0 per cent. The Vauxhall Mokka is the UK's second best car for passing the test (90.4 per cent) while the Mazda CX-5 is third with an average score of 89.2 per cent. 
Click on the links below to find out how specific models perform in that year:
Ask HJ
What is the 'death rate' on older and classic cars?
On the review of the Volkswagen Polo MkII, it says that the car has a '9 point death rate'. Would you be able to explain what this means and, if possible, where I can found out more about the safety of old cars?
The 'death rate points' were based on some Government statistics released around the year 2000 which looked at deaths per vehicle registered. From memory, the figures were short lived and the EuroNCAP crash tests seemed to take over. If you're looking for safety data, EuroNCAP has all the historical data on their site (www.euroncap.com/en) going back to around 1999. Any further back than that and the safety of a car is dependent on the condition it's been kept in as much as it is the manufacturer's original design. For example, the 1950s Austin Westminster is legendary for its sturdiness, robustness, and occupant protection - but if it's completely full of rust and filler it will fold like a paper cup in a crash. Should the MoT test pick that up? Not necessarily. For a start, cars built before 1960 no longer require an MoT test - but a tester can only fail a car for rust if he can see it (and if it's in a certain place such as a load bearing structure or within 30cm of a seatbelt point), which can be hard to see if a shoddy repair has been slapped over with underseal.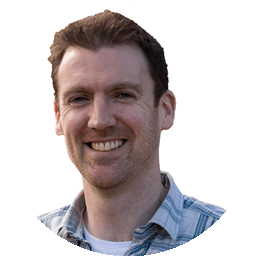 More Questions
Ask HJ
There's an MoT advisory on a Peugeot 207 I just bought - should I be worried?
I've just bought a Peugeot 207 from a garage, but noticed on the MoT it says "wheel bearing slight play". Should I be worried? I know nothing about cars and would appreciate an opinion while I have three months warranty.
Yes, because it is an existing problem that will get worse, so it needs replacing by the garage that sold the car to you.

More Questions
Car Owning Advice
Service & Repair With Confidence