The MoT Files: MoT pass rates by year of registration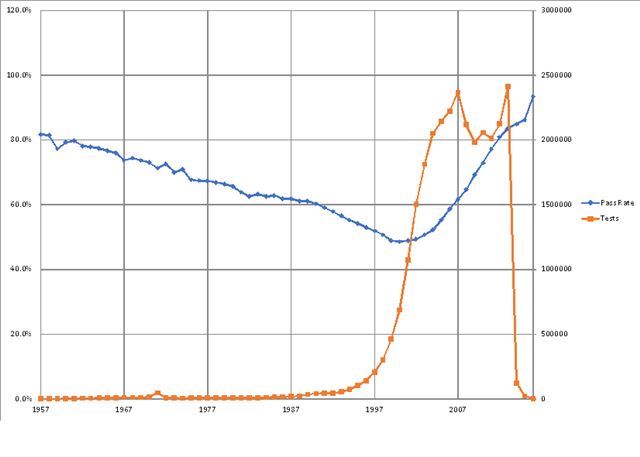 As you'd expect, generally, the newer a car is the more likely it is to pass an MoT test. But there is a turning point when cars switch from being 'old bangers' to cherished classic cars of the future.
According to the latest data, that turning point is the year 2001. Cars in this year have the lowest MoT pass rate of any year - just 50.4 per cent. Cars registered before that have an increasingly high pass rate as the old, sheddy examples are scrapped and people start to treat their cars like classics. While the test pass rate increases for cars registered before 2001, the actual number of tests taken decreases significantly.
The latest MoT test data is for 2017, meaning the newest cars that needed an MoT test by law in this year were those registered in 2014. However, as you'll see from the data below, some cars have been MoT'd before their third birthday.
This could be for a variety of reasons. Taxis, for example, need an MoT when they're just one year old. Alternatively, you might find that some drivers just prefer to have their car MOT'd to put their minds at rest. This could be particularly true if you're a high mileage driver - some cover 20,000 miles a year and might want their car to be checked over before it reaches 60,000 miles. Many dealers will MoT a car before selling it if it has less than 12 months test remaining, too.
Click on the links below to find out how specific models perform in that year:
| | | |
| --- | --- | --- |
| Year of Registration | Number of MoT Tests | MoT Pass Rate |
| 2000 | 393926 | 50.8% |
| 2001 | 623189 | 50.4% |
| 2002 | 896975 | 50.5% |
| 2003 | 1111978 | 51.5% |
| 2004 | 1303157 | 52.6% |
| 2005 | 1412466 | 54.9% |
| 2006 | 1508540 | 57.8% |
| 2007 | 1640714 | 60.3% |
| 2008 | 1482768 | 62.8% |
| 2009 | 1428653 | 67.0% |
| 2010 | 1465445 | 70.6% |
| 2011 | 1408457 | 75.3% |
| 2012 | 1515549 | 79.0% |
| 2013 | 1724872 | 83.0% |
| 2014 | 1929970 | 85.7% |
| 2015 | 87653 | 86.8% |
| 2016 | 13301 | 88.4% |
| 2017 | 2032 | 96.4% |
Comments
Save 12% on GAP Insurance
Use HJ21 to save on an ALA policy
See offer
Service & Repair With Confidence