Best Tyre Inflators & Mini Compressors 2019
Published 13 January 2019
A tyre inflator or mini compressor is a must for any garage or workshop. With such a wide range of tyre inflators and mini compresors on the market, it can be daunting to know where to start. That's why we've put together this list - a run-down on those tyre inflators and mini compressors that consistently get good reviews from buyers. Some of these will also be the cheapest tyre inflators that you can buy - proving you don't neccessarily need to spend a fortune.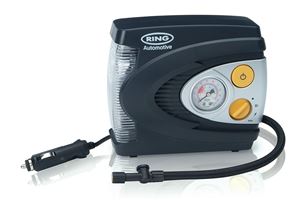 1
Ring RAC620 12V Analogue Tyre Inflator
A favourite tyre inflator here at Honest John, the Ring RAC620 keeps things nice, simple and effective. Another plug-and-play device, the Ring RAC620 takes a 12V feed to power the compressor with an analogue dial displaying in PSI, BAR and kg/cm2. Also included is an LED light with red and white flashing modes to attract attention in case of emergency with an adaptor set to inflate toys and bikes. For a few pounds more you can have the RAC600 version with a digital readout too.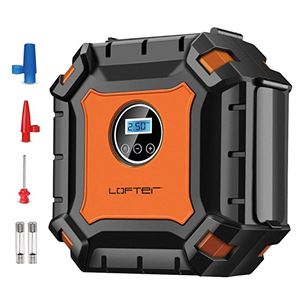 2
Lofter Digital Tyre Inflator
This tyre inflator from Lofter looks ready to inflate a Zeppelin thanks to its tough design and bold black and orange colour scheme, but it has more than good looks going for it. A 3m power cable plugs into your 12V outlet and it dishes out enough air to inflate a flat tyre to 40PSI in less than 5 minutes. The digital display means you can set it to the right pressure and wait for the automatic shut-off, while a switchable LED light means darkness presents no problem. Add in three adaptors and a display that operates in five different pressure units and you've got all the bases covered.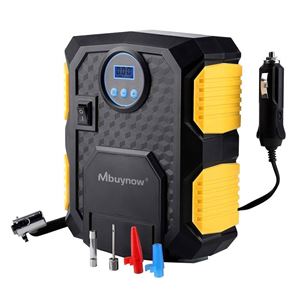 3
Mbuynow Tyre Inflator
Covering all the bases at a reasonable price, the Mbuynow Tyre Inflator is ready for just about anything. One of the more compact offerings available via Amazon, it still offers a 3-metre power cable into your 12V socket and has enough power to dish out 27 litres a minute up to 100PSI of pressure. The backlit digital display means accurate pressures are easy to achieve and a trio of adaptors gives you the option to blow up a variety of inflatables.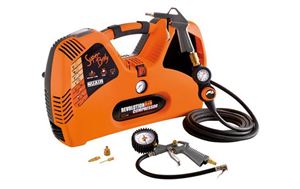 4
SIP Super Boxy Air Compressor
This proper compressor from SIP is designed to tackle a variety of jobs but can handle tyre inflation in a matter of minutes, making it ideal for the workshop. With a 230V power supply the 1.5hp motor can inflate up to 116PSI, with a range of adaptors to suit all manner of inflatables other than tyres. The 3m hose allows it to reach across the garage easily, and unlike some compressors, it is an oil-free system for minimal maintenance.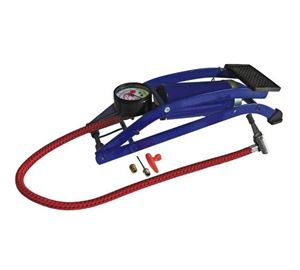 5
Simple Value Barrel Foot Pump Single
As fuss-free as tyre inflation gets, this Simple Value offering will pump up your tyres and throw in a little cardio for free. The single piston can inflate up to 100PSI with an analogue gauge to keep you informed on the current pressure. A thumb-lock keeps the hose in place during inflation and a set of three adaptors is included to deal with other inflatables too.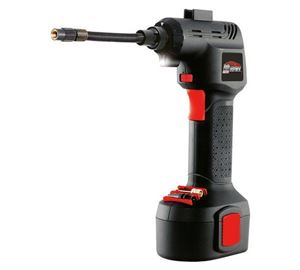 6
Air Hawk Cordless Digital Tyre Inflator
Currently reduced from £49.99 at Argos, the Air Hawk has the advantage over most of the other devices in this list in that it operates via a rechargable battery, giving you the flexibility and security to inflate your tyres anywhere and anytime. Capable of inflating up to 150PSI the Air Hawk can tackle a variety of jobs, comes with its own storage case, light and automatic stop. It can even run via the 12V socket if need be.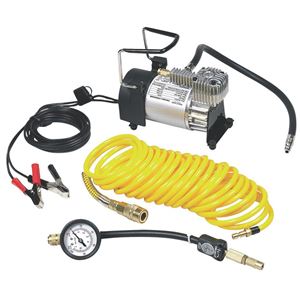 7
Ring Heavy Duty Professional Air Compressor
If you need rapid and powerful tyre inflation on the move then this model from Ring is possibly the perfect choice. The sturdy unit has rubber feet for outdoor use and the twin clamps attach directly to a 12V battery to give lightning-quick inflation, filling a car tyre to 35PSI in less than 90 seconds. A 2.4m power cable plus 7m of air line makes it easy to tackle multiple tyres and a selection of nozzles are provided to suit all duties.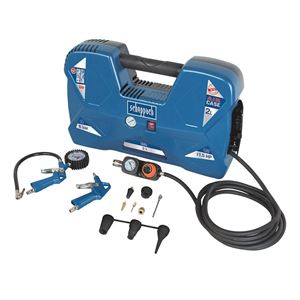 8
Scheppach Air Case 2LTR Portable Air Compressor
A compressor to tackle a huge variety of jobs, this device from Scheppach is packed with accessories. The 1.5hp electrical motor pushes out a massive 180 litres of air per minute to make short work of any task, while the 12-piece air tool kit includes a variety of fittings. This model is also equipped with a tank to enable continuous use up to 116PSI, all contained within its own case for easy transportation.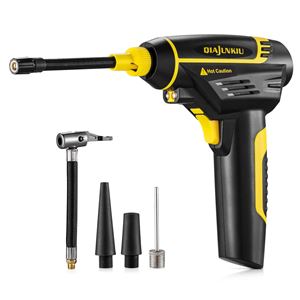 9
QIAJUNKIU Digital Portable Hand Held Air Pump
This offering may be one of the more expensive options in this list but your £40+ does get you something unique in that it is one of the few cordless digital inflators available at any price. The lithium-ion battery charges in three hours and maintains enough puff to inflate four car tyres from flat, which should be enough for the most disastrous of journeys. It also includes bright LEDs for dark conditions, a digital display for accuracy and a comprehensive range of accessories including adaptors, gloves and a storage bag.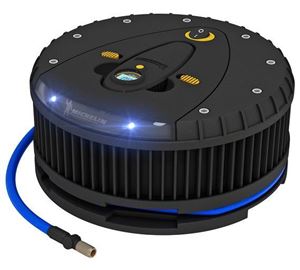 10
Michelin 12V Tyre Inflator with Detachable Gauge
This tough-looking inflator from Michelin brings all the features you want and expect - a digital display and operation, LED lights to cope with the dark and a powerful motor to get you back up to pressure quickly. It has a few extra tricks up its sleeve however, most notably that the display element is detachable and operates as a pressure gauge all by itself - ideal for checking all is well without having to get the whole unit out and plugged in.
Service & Repair With Confidence