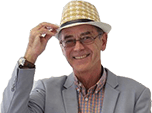 About The Good Garage Guide
The Good Garage Guide was founded on the back of readers' garage recommendations.
Today it's the largest database of reader-recommended garages and is run to make sure that you can find a reputable place to service or MoT your car near you.
Brought to you by HonestJohn.co.uk, The Good Garage Guide is the UK's only independent site, dedicated to reputable garages. Every garage earns it's place through customer recommendations, and with almost 6,000 trusted garages in the database, you can be sure to find one near you.  
If you're stuck and are in need of a good garage, search here.
Is your local garage a hidden gem? Recommend them here.
Honest John says: "The best way to get rid of bad garages is to support good garages, so the good garages get the business. That's why, in 1997, I started The Good Garage Guide, based on reader recommendations. This has grown ever since, with fresh recommendations added daily."
Already in The Good Garage Guide?
If you are listed in The Good Garage Guide then simply fill in your details below and we will send you our Free: Essential Good Garage Guide Marketing Kit.  




It contains Good Garage Guide air fresheners, business cards to staple to receipts, window stickers, and pens.




These tools can help remind your customers to fill in a recommendation, so you can watch your garage go up the ranks. The more recommendations you get, the more your garage will show up in search results.