About The Good Garage Guide
The Good Garage Guide was founded on the back of readers' garage recommendations.
Today it's the largest database of reader-recommended garages and is run to make sure that you can find a reputable place to service or MoT your car near you.
Brought to you by HonestJohn.co.uk, The Good Garage Guide is the UK's only independent site, dedicated to reputable garages. Every garage earns it's place through customer recommendations, and with almost 4,500 trusted garages in the database, you can be sure to find one near you.  
If you're stuck and are in need of a good garage, search here.
Is your local garage a hidden gem? Recommend them here.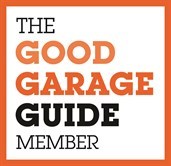 What a Good Garage Guide member means for you
A Good Garage Guide member is a garage that you can trust. To become a member, garages must have a minimum rating of 3 stars. We display this member badge against their profiles to inform you that they are a member.
Being a member makes it easier for visitors to contact them because their profiles include integrated enquiry forms, dedicated phone numbers and also links to their social media profiles. 
Member garages have the right to reply to reviews on their profile which non-member garages do not. This means that they are able to respond to visitors proactively and put any problems right.
At the Good Garage Guide, we track calls and emails for our members to try to ensure our visitors receive great customer service, but if you have any issues or complaints you can get in touch - garages@honestjohn.co.uk. 
Recent reviews from our readers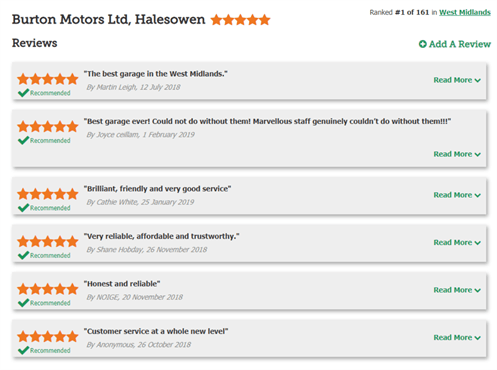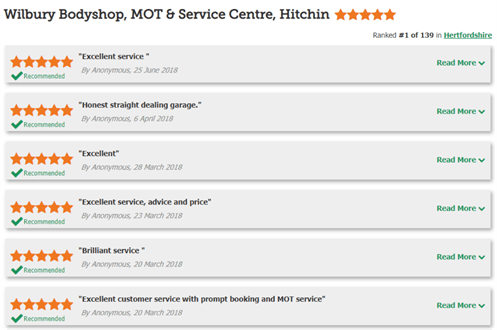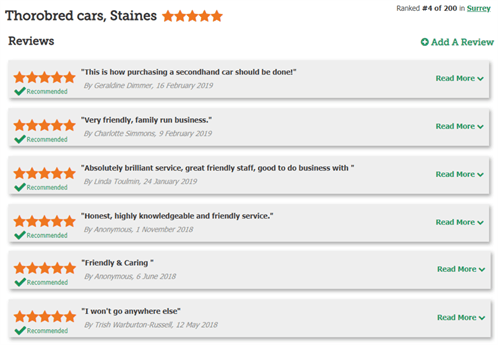 Frequently Asked Questions about      The Good Garage Guide
1
Who decides which garages are included?
At The Good Garage Guide, we give our readers a voice. They decide which garages they want to recommend and which garages they review. A profile page for each garage is automatically created on The Good Garage Guide when a reviewer posts a recommendation and review about that garage. Therefore, the very first reviewer of each garage triggers each profile page on The Good Garage Guide.
The internet makes it possible for consumers to share their views about their consumer experiences. And they do that extensively - not just on review communities like The Good Garage Guide, but also on social media such as Facebook and Twitter. As we see it, companies can't avoid online reviews about their services, and should therefore use the opportunity to engage with the feedback they receive.
We've designed The Good Garage Guide so that everyone can use it for free. We aim to make it easier for consumers to read and write reviews, and for garages to find feedback, we also provide marketing materials that help garages to engage in useful dialogue with their customers.
2
How do The Good Garage Guide rankings work?
Rankings on Honest John's Good Garage Guide are calculated using a Bayesian average to balance average ratings, number of reviews, and how many reviewers would recommend the garage to a friend. 
3
Do garages who advertise get a higher rating?
No, the only way a rating can be altered is by a reader posting a genuine customer review. If a garages wishes to influence their rating, the best thing for them to do is to actively engage with their customers, improve their customer service, and encourage customers to write reviews on The Good Garage Guide.
If you are a garage who would like to increase your exposure on HonestJohn.co.uk and The Good Garage
Guide, see here.
4
Can garages remove their profile from The Good Garage Guide?
No, a garages can't remove their profile from The Good Garage Guide. Reviews are like all other types of user-generated content on the internet and social media, and can't be removed.
We safeguard the trust and transparency of our review community. Businesses and consumers alike can rest assured that no company or competitor can simply delete a profile that has a number of negative reviews and create a new one.
5
Can a garage remove negative reviews?
No. No garage can remove a review from The Good Garage Guide. However, anyone - businesses and consumers - can flag a review if they think it violates our guidelines. Our Compliance Team will then investigate the review.
6
Does The Good Garage Guide remove negative reviews for garages?
No. The Good Garage Guide doesn't remove reviews because they're negative. That type of behaviour isn't in line with our purpose or our foundation.
The Good Garage Guide asks our readers to edit their reviews if they don't comply with our guidelines. We only remove reviews that have not been brought in line with our guidelines after requests for editing.
7
Do consumers tend to leave reviews when they're dissatisfied?
We encourage our readers to leave honest reviews of their experience.
We also know that companies tend to get a more representative picture of their customer service if they actively engage with their customers. Engaging can include inviting customers to leave reviews.
8
How does The Good Garage Guide generate revenue?
The Good Garage Guide is a subsite within HonestJohn.co.uk. The business is funded by advertising across the entire website. This revenue enables HonestJohn.co.uk to expand and ensures the team can provide vast amounts of advice and information free for all to access.
9
Are The Good Garage Guide employees allowed to write reviews?
The Good Garage Guide employees (and HonestJohn.co.uk employees) are permitted to write reviews, providing they have a genuine experience at their local garages. Any reviews must (of course) be authentic and comply with The Good Garage Guide's (and Honestjohn.co.uk) guidelines and policies, including our User Guidelines.
If you have questions about using our review community, feel free to email our support team: garages@honestjohn.co.uk
Save 12% on GAP Insurance
Use HJ21 to save on an ALA policy
See offer
Service & Repair With Confidence