Cheap Car Scratch And Dent Repair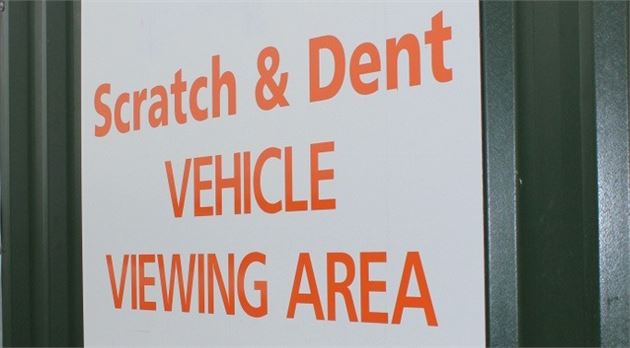 In This Guide
Chip & Dent Repair Firms
We've all been there, returning from another delightful Sunday afternoon shopping trip to find some clown has left a neat impression of their car in your door. Then comes the nightmare of expensive repair bills or driving around looking like a failing learner. But with a bit of effort you can get minor bodywork problems solved for less - or fix them yourself.
Which companies offer scratch and dent repair for cars?
For minor dents, scuffs, chips and scratches, like you might pick up in the supermarket car park, there's:
Chips Away
Chips Away is arguably one of the best-known smart chip, dent and scratch specialists. It claims to have the largest network of repair specialists in the UK, and all have undergone specialist training. It offers repairs to car paintwork on a same-day basis, specialists work from vehicles fully equipped as mobile workshops, or fixed-base units known as Car Care Centres. They can come to your home or work to do repairs and just need a power supply.
Chips Away has a five-star rating on Trustpilot, with 93 per cent describing its work as excellent.

Dent Wizard
As with Chips Away, Dent Wizard brings its self-contained mobile workshop to you. Specialist technicians have everything they need to conduct expert repairs at home, work or at the most convenient location for the customer. Technicians will even bring their own power.
It offers national mobile coverage to all sectors of the automotive industry, including insurers, administrators, motor dealer groups, vehicle auctions, leasing and contract hire companies, corporate and private individuals. 
Dent Wizard has a three star rating on Trustpilot with 44 per cent of customers rating it as excellent.
Other providers include: Dent Devils and The Dent Men.
How much does professional dent & scratch repair cost?
The days of sending your car into a dealership for an expensive bodywork fix are thankfully gone, as independent and mobile dent and scratch repair companies are everywhere, and the level of competition is good news for you as the customer.
As with any kind of repair the cost will vary a great deal depending on the severity of the damage, whether paint is required and sometimes the location of the damage can also affect the cost. To make sure you get the best deal it is worth cleaning the affected area and taking some good quality photographs from various angles, these can be sent with your enquiries to get a more accurate estimate. 
Search your local area for specialists and look at mobile services too, although if you can take the time to take your car to the repair centre rather than them coming to you it may help to cut the cost a little. Compare quotes and look at likely labour and material costs, and it does no harm to ask about possible complications that may result in the cost going up.
Where can I get insurance for scratch and dent repair?
Yes, there are specialist insurers who provide insurance cover for small scratched and dents - the sort of thing that would be repaired by the companies mentioned above, rather than repairs from an acccident. If you're buying a new car, there's a strong charge that a dealer will offer you scratch and dent insurance, either as part of the deal or for an extra charge. As with all our advice, we recommend doing your homework beforehand and work out roughly what it will cost from a third-party insurer and whether scratch and dent repair is worth it for you.
If you live in the city - or a busy road - where cars can be more susceptible to dents and scratches, you may find that it is worth it, as it will work out cheaper than paying th excess on your standard car insurance (and that's before you consider that it's likely to put up next year's premium)It's also useful to keep your car in good enough condition so you won't be penalised when you finish a PCP finance contract or car lease term. If you've got a car on a PCP, you could be charged for any minor damage, so this kind of insurance could be money well spent.
Companies that offer scratch and dent insurance include: ALA (better known for its GAP Insurance)*, MotorEasy* (also a warranty provider), Car2Cover and gapinsurance.co.uk
Can I fix a scratch at home?
Never mind the question 'how long is a piece of string?' - with a scratch you also have to take into account the width and the depth to determine the appropriate repair. In theory you can fix any kind of scratch at home but it depends on your own abilities (and you should be realistic) and how much you are willing to invest in the required paints and tools.
Light scratches are obviously the easiest to fix. If the scratch has only gone through a little of the paint you can sort it with a few bottles and some elbow grease. A bottle of paint restorer - often referred to by the brand name of T-Cut - takes off micron-thick layers of paint until you get down to a layer below the scratch when it will disappear as if by magic. Once this is done it is crucial to polish over the top and ideally add a layer or two of wax; this process exposes the paint and if you don't re-apply a polish or wax the exposed paint will fade.
How do I fix a big scratch at home?
For bigger scratches you will need to apply new paint to the surface, and that means essential preparation, application and finishing if you want to avoid it looking like a toddler's had a go at it. You can buy ready-made kits with the correct paint and products for your car, but the essentials are wet and dry paper to clean the area, primer, paint and slim brushes and more paper to sand the repair.
It is crucial to take your time and ideally perform the repair indoors. The paint must be applied in thin layers to avoid any drips and given plenty of time to dry in between coats, and sanded down afterwards to ensure a smooth finish before polish and wax is applied. Even with great care it is unlikely you will achieve a finish as good as a professional. Which is where companies such as Chips Away and Dent Wizard come in. 
Can I fix a dent at home?
As with scratches, the short answer to this question is yes but with a qualification. Fixing a dent is even more of an art form than scratch repair, and if you want your car returned to perfect condition then it is best not to attempt it at all. If you just want to remove a dent so it looks less untidy and aren't bothered about a showroom finish, doing it at home can save you money.
Pushing a dent out is easier than pulling one out, but that entirely depends on the access to your panel. A dent in a door could be quite easily pushed out, but will require you to detach the inner workings of the door panel to get to it. As always with a repair like this, do not attempt it unless you are completely confident in your abilities. Pulling a dent out can be performed with anything from a kettle and a sink plunger to professional dent-pulling kits you can buy from Amazon, the important point being to take care not to damage the paintwork and to take your time: the one thing you want to avoid is making it worse. We have a step-by-step guide on pulling dents from bodywork here - with some of our key products for th job listed below.
Best Kit For Pulling Dents From Bodywork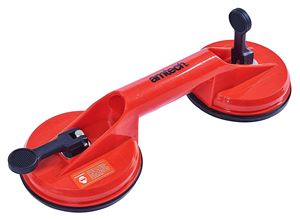 Amtech J1870 Heavy-Duty Suction Cup
This Amtech dent puller is about as simple as they come. It will work best on big, wide dents, as you'll need a smooth surface to suction onto. It's a doddle to use though. Just put it on the poorly panel, press it down, flick one or both of the suction tabs, then pull the handle. The theory is that it will then pull the dent out. Child's play. Plus, you could use it to scale tall glass buildings.
Buy it now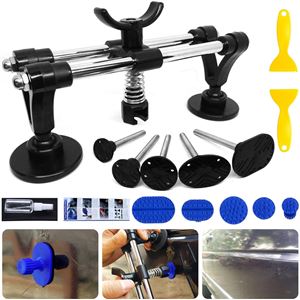 Manelord Auto Body Repair Tool
This is a clever little bit of kit, and is best suited to those smaller, more concentrated dents that you can't get a suction cup onto. The idea is simple; you place a blob of glue on the dent and then affix one of the pulling bits to it. Once the glue has cured, you put the small metal gantry over the dent and hook the centre puller onto the bit. Then you just wind it out. Just remember to buy the glue gun, too.
Buy it now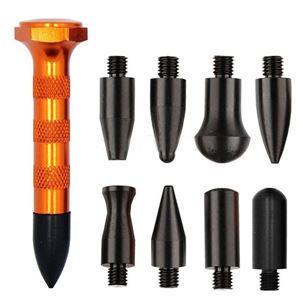 GS DIY Paintless Dent Repair Kit
At less than a tenner, this is well worth a go. It's simply a metal body that's designed to be tapped with a hammer at one end. At the other, you have interchangeable plastic tips, which will allow you tease and tap the dents out of your bodywork. Obviously this is only really of use for car park dings or other light bumps, but with a selection of tips included, it's well worth trying out.
Ask HJ
A runaway trolley damaged my car - is the shop responsible for the repairs?
A runaway trolley was left at the end of a row of trolleys opposite my parked car, in a marked parking bay, at Asda. I was sat in the car waiting for my wife who was in the store. The weather was sunny, but a gust of wind rolled the trolley down the slight gradient towards my car. No one was in the immediate area and the trolley was about 15 foot away. By the time I noticed it rolling towards me, it was too late. It dented and scratched my car. On returning the trolley to the row, I realised that they did not require a pound coin, or it would have been secured by the locking chain. Does this mean I have a claim against the group for negligence? I don't see why I should lose my No Claims Bonus for what could be an expensive repair to my car. It's fortunate that it was serviced and a body check report was done a week ago by the main dealer.
It's a tricky one because there is no negligence by ASDA. You could argue that you should have spotted this, and being aware of the weather conditions, expected something like this could happen. As such, you should have parked elsewhere. If it was not parked where it was, it would not have been damaged. The flip side of this is, the supermarket has a duty of care to prevent damage or injury to others whilst on their property. Are there signs that read something like 'park at your own risk'? A gust of wind would be seen as an Act of God. I would contact ASDA and request their public liability insurance details. They will not want to provide this, as they will have a high excess, and will be technically self-insuring. You may well find this tactic will assist you in having them compensate you for the damage. I would not expect success, but there's no harm in trying.

More Questions
Ask HJ
Is anti-scratch protection film worth the money?
I am taking a delivery of a new car and have been offered anti-scratch protection film at a discounted price of £150 by the dealer. I have read else where about huge commissions dealers get out of such offerings, but in reality does the anti-scratch protection film makes any real difference? I intent to hold the car for long term.
"Anti-scratch protection film" is a new process. Basically 'wrapping' the car an a clear wrap. This is applied, not sprayed on. So £150 reads suspiciously cheap. The dealer might have used the wrong terminology. But £150 is cheap for a protective coating anyway.
More Questions
* Sometimes we show a link with a * next to it. It means that it is an affiliate link and as a result helps HonestJohn.co.uk stay free to use. It's tracked to us and if you go through it, it can sometimes result in a payment or benefit to the site.
Save 12% on GAP Insurance
Use HJ21 to save on an ALA policy
See offer
Service & Repair With Confidence