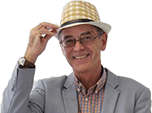 Cheap Tyre Buying Guide
Puncture? MoT advisory for your tyres? Looking for better quality tyres? Our guide explains what to look for when buying new rubber and how to pay less for it.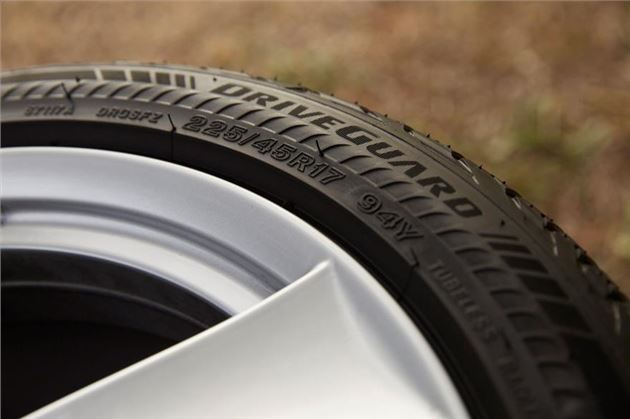 No one likes to fork out a fortune on new tyres but they are one of your car's most important components. Here's how to buy cheap and buy right
You might start to notice braking isn't as efficient as normal, or that your front wheels start to spin up when you're pulling quickly away from junctions. Or worst of all, an advisory on your MOT test points out you're nearing the legal tread limit of 1.6mm. Either way, the bottom line is it is time to replace your tyres - and that costs money.
So, how can you make sure you don't pay over the odds when repairing or replacing a tyre?
1. Know what tyres to buy
The good news is the choice of tyres is bigger than it has ever been, with many more discount brands available alongside the established big players. Add into that the online retailers alongside the traditional high street fast-fit firms and that means good news for you and me - it just takes a bit of legwork to find the best deal.
The starting point is, of course, finding out what tyre you need. Start with your existing rubber; each one will have the tyre size stamped into the sidewall, and this is the crucial information you need to note down. Read our in-depth explanation of tyre dimensions here. There is a lot of information contained within this series of numbers and letters, but for now, the most crucial bit is the size, which will look something like this: 195/60 R15 92V. In short, the first three numbers are the tyre width, the next two numbers are the aspect ratio (the ratio of tyre width to sidewall height), R15 means a radial tyre of 15-inches diameter, 92 is the load rating and V is the speed rating.
As a general rule it is sensible to stick to the tyre dimensions and ratings that it is already using or those recommended in your handbook. There are circumstances where you may wish to get a higher speed rating or load rating, but it is important to ensure the tyre meets the basic requirements.
The size of the tyres on your car contributes significantly to the way it behaves on the road, which is why it is so important to choose the correct size for your car when replacing them - or to make careful consideration should you wish to change the size of the wheels on your car.
The width of a tyre dictates how much grip is available for cornering, braking and acceleration. The wider a tyre is, the bigger the contact patch - the bit of the tyre in contact with the road - and the bigger the contact patch, the more grip is available. Although a lot of other factors are involved, a wider tyre will in general have a higher rolling resistance, which is a trade-off for the increased grip. This is why cars with modest performance and high economy have narrower tyres for efficiency, whereas high-performance cars have wider tyres and prioritise grip over efficiency.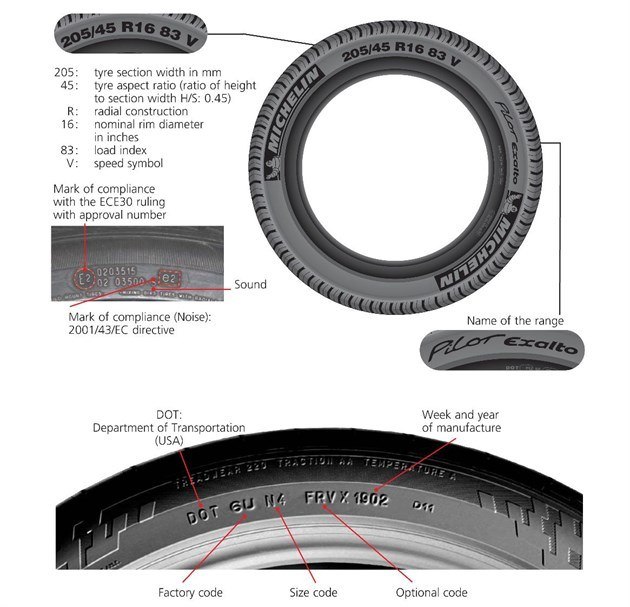 The aspect ratio of a tyre also has an effect on the way your car behaves on the road. The higher the aspect ratio the taller the tyre is in relation to its width, or how tall the sidewall is. A tall sidewall contributes to ride comfort by helping to absorb bumps in the road, but the trade-off here is that a tall sidewall deflects more during cornering, giving less accurate response through the steering wheel. A high-performance car will usually wear a low aspect-ratio tyre for this reason, while economy or comfort-biased cars will have higher aspect ratios.
As a comparison, prices for the Michelin Energy Saver+ were checked at Motokiki.com in a variety of sizes:
A brief snapshot of the available tyre sizes and prices shows that a number of factors contribute to the difference in price between one size and another. Although broadly speaking a wider and lower profile tyre will cost more than a narrower one, the popularity of a particular size can also play a big part in the cost.
2. Know where to look for the cheapest tyres
There's no straightforward answer to this question, other than probably not from a main dealer. There are plenty of Internet-only retailers like Blackcircles.com that will not only source you the tyre but also give you a price including fitting too, while other web sellers will deliver them to your door and let you sort out the fitting yourself. The main high street tyre fitters will have good deals but you do pay for the convenience, so don't ignore the smaller chains or local independent garages that may be able to beat your best price on the right tyre.
Many Internet retailers now offer a search service from your vehicle registration, so you can search for your tyre size very quickly - just be sure to confirm the size is correct if more than one option is available. For comparison purposes we price checked a common tyre size for budget and premium makes including fitment. 
3. Compare the tyre comparison sites
Below are the four main tyre sites that we think you should check out before any purchase any tyres. Some are more competitive for particular types of tyres than others - so it pays the check them all before ordering.
Below is a comparison on three popular tyres that we asked all comparison sites and retailers for.
More about buying tyres online
4. Don't Forget The High Street
Many of the traditional high street tyre retailers now have an online presence, so you can visit firms such as KwikFit*, ATSEuromaster*, Halfords Autocentres and National Tyres* and find the tyre you want as well as organise fitment, and in some cases arrange for the tyres to be fitted at your home or workplace.
In addition, the online-only tyre retailers who can either deliver the tyres to an address of your choice for fitment elsewhere or also quote for a mobile fitment service. Retailers such as Blackcircles.com*, Tyre-shopper.co.uk, Motokiki.com and Tyresonthedrive.com* all offer a wide choice of tyres and fitment options.
5. Can Your Tyre Be Repaired?
Most companies that offer a tyre repair generally do so for a fixed cost regardless of the tyre size, but it is always worth shopping around to check prices nearby. The prices below are shown as a guide and may vary depending on the nature of the repair and if it is a mobile or on-site service. 
| | |
| --- | --- |
| 195/65 H 15 | Repair price |
| National Tyres | £25* |
| Kwik Fit | |
| Tyresonthedrive.com (mobile) | £45* |
| Halfords Auto Centre | |
| ATS Euromaster | £26* |
Is it worth getting your tyre repaired?
6. Very Cheap Tyres From Unknown Brands Are Enticing, But Know The Risks
While an expensive tyre from a well-known manufacturer will almost definitely offer you the best grip and performance, that does not mean that a budget brand will be unsafe. If you buy a new tyre you can be certain that it has been tested to strict EU legislation and therefore has to perform to a certain standard. It's also the case that many of the best-known tyre manufacturers actually produce low budget tyres under a different name, so you can benefit from the same expertise in design and construction.
Better still, new tyres have to carry a label that rates them on three specific criteria: fuel efficiency, wet grip and external noise. While a tyre that is rated poorly for wet grip won't perform as well as it does in the dry, or as well as a tyre rated more highly for wet grip, that does not mean it is unsafe. It is worth taking the time to see how similarly-priced tyres compare on these three aspects and balancing them with your budget; that way you can get the best-performing tyre that your budget will allow.
7. Think About Insuring Your New Tyres
Many factors will determine the final figure but a tyre insurance premium will be largely dictated by how much an individual tyre costs to replace. In general the larger a tyre is the more it costs to purchase, while high performance and run-flat tyres also tend to be more costly than a standard tyre of the same size. The following quotes were obtained for a standard summer tyre with a £300 claim limit per tyre - a lower maximum claim limit should result in a lower overall premium too.
Is it worth insuring your tyres?
8. Prevent punctures in future by maintaining good tyre pressure
Some punctures can be prevented, by looking after your tyre pressures and checking regularly. These are our Top Three tyre inflators (for the full list click here).
More on the right tyre pressures for your car
* Sometimes we show a link with a * next to it. It means that it is an affiliate link and as a result helps HonestJohn.co.uk stay free to use. It's tracked to us and if you go through it, it can sometimes result in a payment or benefit to the site.
Service & Repair With Confidence