Focus On: PMW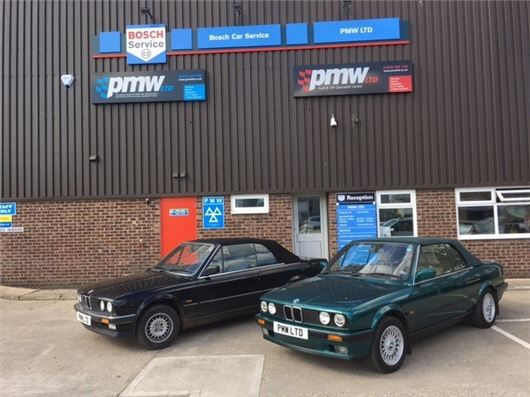 Published 18 June 2019
There are multiple reasons to recommend a garage in The Good Garage Guide, whether it's specialist expertise or customer care. However with PMW in Chelmsford, there is a consistent message throughout most of the recommendations – professionalism, honesty and friendliness.
PMW was established when Peter, the owner, became exhausted with garages that had a 'dealer mentality'. He wanted a garage that would provide a quality service at a fraction of main dealer price.
It started in 2000 as a 'one man does all' operation, repairing cars, taking bookings and even answering the telephone, but gradually expanded to take on more staff. He now has a nine bay workshop with a dedicated MoT testing bay and a four-wheel alignment bay over 6500 sq/ft. Before setting up on his own, Peter worked at Bates BMW Maldon and Mercedes-Benz Chelmsford for eight years. He still works on the tools everyday.
Daniel, the service manager at PMW says "Owners take their cars to PMW because they trust them to do the best job and the confidence that their mechanics give customers leaves them feeling more than satisfied with entrusting PMW to service, repair or MoT their car."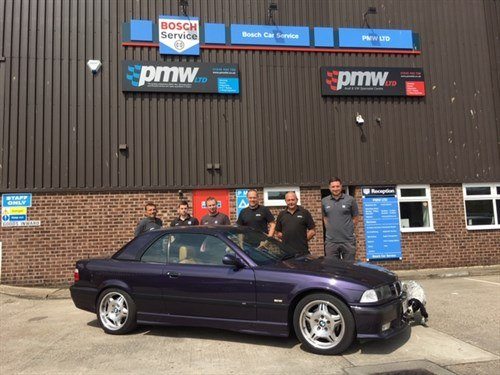 The PMW team with their garage mascot (Maisie the dog)
Over the years PMW has had a wide variety of cars come in and out of the garage, but one car that stood out was the BMW E30 M3. Peter carried out the PDIs, servicing and warranty work on the E30 M3 at the dealer. Peter says "Owners of these vehicles typically carry out minimal mileage and cherish their vehicles, making it a privilege to work on their pride and joy."
PMW prides itself in it's customer retention which is due to high satisfaction levels, which comes from having an expert knowledge base, alongside a 'can do' attitude backed up by exceptional front office customer experience, that this sets them aside from other garages.
When asked how important it is that customers leave a review for their garage, Daniel replied with "It's just as important as paying the invoice" With reviews like "Top-notch garage - friendly, great level of expertise and decent prices" and "An excellent honest and reliable BMW specialist - highly recommended" it's easy to see why this garage is number one in Essex and was recognised for being a Top Three garage in the East of England in The Good Garage Guide Awards 2019.
PMW is in Chelmsford, Essex. Have you visited? Leave a review on The Good Garage Guide page.
Latest
Save 12% on GAP Insurance
Use HJ21 to save on an ALA policy
See offer
Service & Repair With Confidence