Top 10 Best Dent Pullers
There is nothing worse than pranging your pride and joy. One minute it's looking all shiny and resplendent, and then without a moment's notice, its bodywork is all wibbly and wobbly. And then you have to go through your insurance, you have to book into a body shop, you have to suffer a hire car that smells like death and then the big payoff is that your premium goes up or your wallet gets a lot lighter. But does that have to be the way? There's a chance you could fix it at home. You'll need the right tools though, which is why we've handily rounded up the ten best dent pullers you can buy on Amazon.
See also: How to pull a dent from a car panel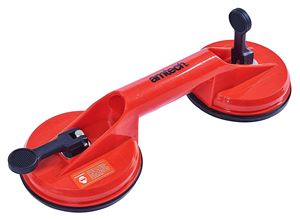 1
Amtech J1870 Heavy-Duty Suction Cup
This Amtech dent puller is about as simple as they come. It will work best on big, wide dents, as you'll need a smooth surface to suction onto. It's a doddle to use though. Just put it on the poorly panel, press it down, flick one or both of the suction tabs, then pull the handle. The theory is that it will then pull the dent out. Child's play. Plus, you could use it to scale tall glass buildings.
Buy it now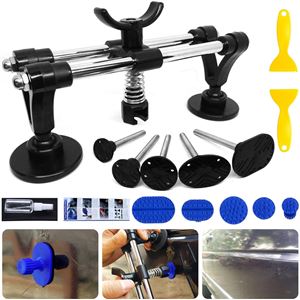 2
Manelord Auto Body Repair Tool
This is a clever little bit of kit, and is best suited to those smaller, more concentrated dents that you can't get a suction cup onto. The idea is simple; you place a blob of glue on the dent and then affix one of the pulling bits to it. Once the glue has cured, you put the small metal gantry over the dent and hook the centre puller onto the bit. Then you just wind it out. Just remember to buy the glue gun, too.
Buy it now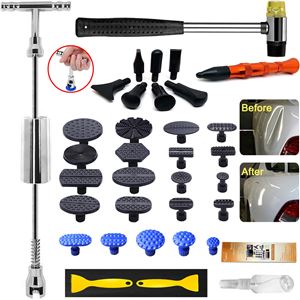 3
Manelord Auto Body Dent Repair Kit
Another entry from the dubiously-named Manelord, this time one for the braver home dent-puller. This kit again needs you to buy a glue gun and glue sticks, but that's all. Other than that, you have everything you need including a brace of pulling tabs, a hand-pulling tool and even a slide-hammer for more stubborn dents. There is also a rubber hammer to help you tease out stubborn ripples, as well as a nylon punch for really fine dings.
Buy it now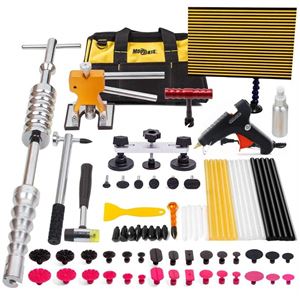 4
Mookis Car Dent Repair Kit
At a penny under £100, this isn't a cheap bit of kit. However, it's worth it as it contains just about everything you need, including the glue gun and glue. Think of this as a kit comprising of everything in the Manelord kits above. But wait, as TV infomercials say, there's more. With the Mookis kit, you also get a dent-lifter gun, giving you finite control over how you pull dents, and you also get a handy LED line board. With a suction mount, it attaches to the car with ease, and once lit up, you can use its reflection in car's paint to see any ripples or waves you may have missed.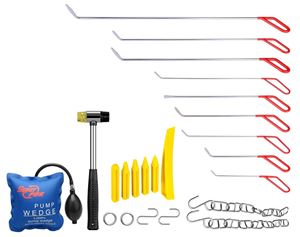 5
PDR Car Body Dent Repair Kit
Tried all the other kits and still have a stubborn dent? Perhaps it's time to take a leaf out the professional's book and tackle the issue from the inside. It's true, most dent technicians go in and push the dent out, rather than pull it. To do that, you'll need this kit from PDR, that includes all the long arms you'll need to reach the dent, as well as an inflatable airbag to help push out dents, too. That, or you can use the air bag to hold a panel from behind whilst you use the hammer and nylon punches to tap out the dent from the outside. Just like a pro.
Buy it now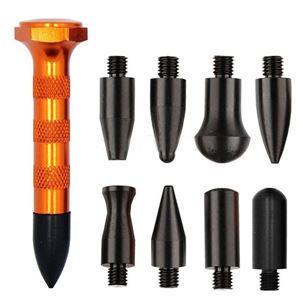 6
GS DIY Paintless Dent Repair Kit
At less than a tenner, this is well worth a go. It's simply a metal body that's designed to be tapped with a hammer at one end. At the other, you have interchangeable plastic tips, which will allow you tease and tap the dents out of your bodywork. Obviously this is only really of use for car park dings or other light bumps, but with a selection of tips included, it's well worth trying out.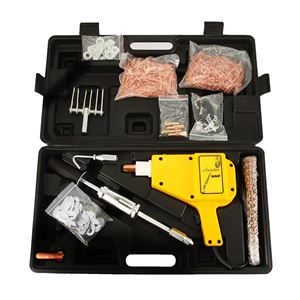 7
Hopopular Stud Welder
We're getting a bit more involved now, and we're looking at a dent or crease that's either broken the paint or is so deep that paintwork is going to be needed. As such, you can strip it back to bare metal and use this stud welder. You load it up with a stud, hold it to the bodywork, press the trigger, then it fuses the stud to the car. Once affixed, it has a tight hold, so you can go to town with the supplied slide hammer and pull the dent out. Once done, the stud simply snaps off. The you just need to hit it with the primer and paint.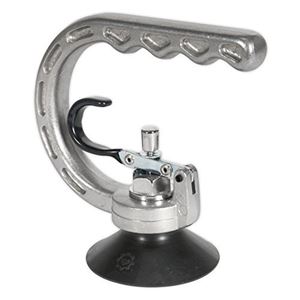 8
Sealey AK100 Professional Dent Puller
This dent puller from Sealey works on the same principle as the one at the top of this list. However, this one only has one suction cup, and it's smaller in diameter meaning you can get into some tighter dents. Plus, the contoured aluminium handle means you can get a decent grip before giving it a good old tug, so to speak. There's also a handy trigger, so you can release the suction without making another dent!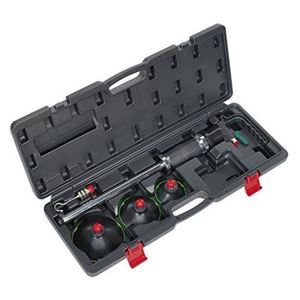 9
Sealey RE101 Air Suction Dent Puller
If you have a compressor in your garage, this could be just the ticket. Using the compressor, this handy tool makes sure the suction onto the panel is never lost, meaning you can pull out even the most stubborn of dents. And with suction cups in 75mm, 100mm and 125mm, you can tackle the big and the small. It's also got a built-in slide-hammer, which means you can really give your dent extraction some welly.
Buy it now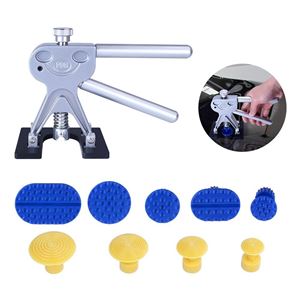 10
PRD Paintless Dent Repair Tool
This handy little device is perfect for those dings that reside in the middle of a once-perfect panel. You'll need to buy a glue gun and the requisite glue sticks, but that's all. The puller will do the rest. You glue a tab to the dent, then you place the dent-puller over it and attach it to the glued-on tab. All you must do then is wind the slack out, then squeeze the trigger. The tool has a firm footing, so it spreads the load easily and pulls dents out without fuss.
Service & Repair With Confidence