What tyre inflators can I buy from Argos?
Published 13 January 2019
You don't have to be a serious car maintenance enthusiast to know that owning your own tyre inflator is a sensible idea. Skip the queues at the garage and keep your tyres in good shape all year round with our pick of the best available from Argos.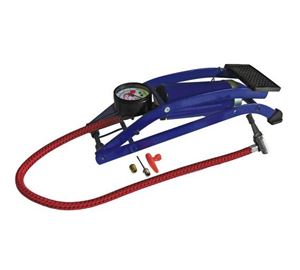 1
Simple Value Barrel Foot Pump Single
As fuss-free as tyre inflation gets, this Simple Value offering will pump up your tyres and throw in a little cardio for free. The single piston can inflate up to 100PSI with an analogue gauge to keep you informed on the current pressure. A thumb-lock keeps the hose in place during inflation and a set of three adaptors is included to deal with other inflatables too.
Buy it now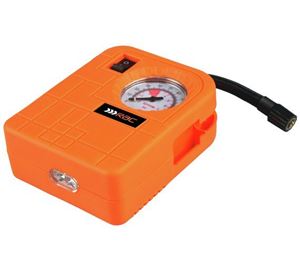 2
RAC Analogue Tyre Inflator
Can be found often reduced from £19.99 this 12V inflator from RAC is one of the cheapest powered compressors currently on sale, but isn't short of features as a result. It can be powered by your car's 12V socket or motorcycle battery terminals, and there's just under a metre of air line to add to a 1.6m power cable (longer for motorbikes) so you can reach wherever you need. With 12 litres of air per minute it will have your tyre back to life in no time. It also features a torch and is remarkably compact at just 12cm in length.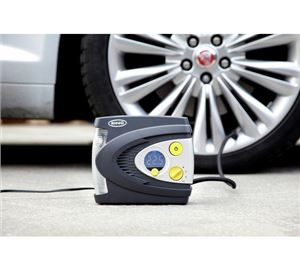 3
Ring RAC635 Digital Tyre Inflator
Just one of the impressive range of tyre inflators from Ring, this particular model sits near the top of the tree thanks to a host of features. The digital display and automatic function only requires you to set the desired pressure and hit the button, while the powerful compressor does its thing - inflation can be performed in under three minutes. A powerful light with SOS flashing function is also included plus three adaptors to suit a variety of inflatables.
4
Michelin 12V Tyre Inflator with Detachable Gauge
This tough-looking inflator from Michelin brings all the features you want and expect - a digital display and operation, LED lights to cope with the dark and a powerful motor to get you back up to pressure quickly. It has a few extra tricks up its sleeve however, most notably that the display element is detachable and operates as a pressure gauge all by itself - ideal for checking all is well without having to get the whole unit out and plugged in.
Service & Repair With Confidence