What tyre inflators can I buy from Halfords?
Published 13 January 2019
A workshop should be equipped for any eventuality, and there's no point in keeping an well looked after car if you can't set the tyre pressures before setting. Here are a selection of handy inflators and workshop-spec mini compressors from Halfords.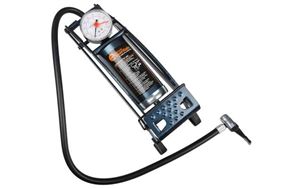 1
Halfords Essentials Metal Barrel Foot Pump and Gauge
Covering off the budget end of the market with this perfectly-priced offering, this Halfords Essentials foot pump can get you out of a sticky situation with the minimum of fuss. The bold and clear analogue gauge will keep you informed with a thumb-lock on the end of the air line to ensure secure inflation and an adjustable red needle so you can avoid overinflation. With a sturdy metal frame and tough painted finish it should last too.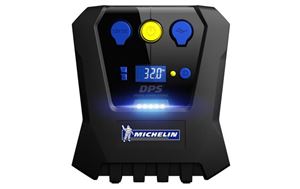 2
Michelin Programmable Rapid Tyre Inflator
Currently reduced to a tidy £40 this digital tyre inflator from Michelin not only looks futuristic but is equipped for modern life. Plugging into your car's 12V socket it can inflate a flat tyre to 35PSI in three minutes and can go up at high as 50PSI, and the automatic operation means you can switch on and forget about it. As a bonus, there is another 12V socket to feed other devices plus a USB socket to charge phones, which could be a lifesaver.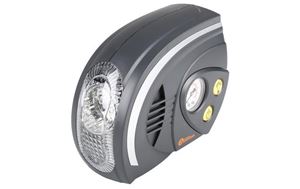 3
Halfords Essentials Analogue Tyre Inflator
Another offering from the Halfords Essentials range, this delivers the basics you want from a powered inflation system with some things you might not expect. Hooked up to a 12V supply it delivers up to 20 litres of air per minute, allowing it to inflate a flat tyre in around six minutes. The analogue gauge gives readings in PSI and BAR, plus there are a range of adaptors and an LED light to illuminate dark conditions.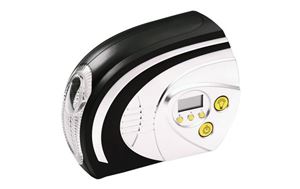 4
Halfords Rapid Digital Tyre Inflator
Halford's own-branded tyre inflator has clearly learned a thing or two from the competition, packing in all the key features at a reasonable price. Dishing out up to 120PSI and as much as 30 litres of air a minute means it can tackle a flat tyre in under three minutes, with a digital display and automatic operation making it easy to set up and control. It's also fitted with a torch for nighttime operations and still weighs under 1kg.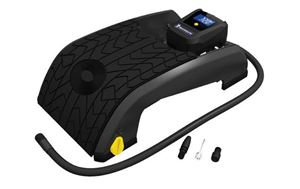 5
Michelin Digital Double Barrel Foot Pump
An unusual mix of analogue input and digital output, this foot pump from Michelin has a twin-chamber design to maximise the amount of air for each press of your foot but combines it with a digital readout to ensure accuracy, in PSI, BAR or kPa. The broad footplate helps to minimise slippage with a steel frame underneath for strength.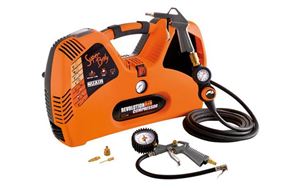 6
SIP Super Boxy Air Compressor
This proper compressor from SIP is designed to tackle a variety of jobs but can handle tyre inflation in a matter of minutes, making it ideal for the workshop. With a 230V power supply the 1.5hp motor can inflate up to 116PSI, with a range of adaptors to suit all manner of inflatables other than tyres. The 3m hose allows it to reach across the garage easily, and unlike some compressors, it is an oil-free system for minimal maintenance.
Service & Repair With Confidence