Seaspray Motors, Uxbridge
Services: MOT, Servicing, Tyres, Exhausts
Iver Lane Bridge Works
Uxbridge
Middlesex
UB8 2JG
Get A Quick Quote
Trusted, reviewed and verified garages in your area.
Powered By
Reviews
"Seaspray Motors is a Garage I trust to do excellent work at a fair price"
By Anonymous, 31 October 2019
Read More
I and my relatives have used Seaspray motors for nearly 20 years and in all that time have never once felt that we were anything other than valued customers. Despite the occassional issues with parking space that I have mentioned we have never considered using any other Garage for our MOTs, servicing and repairs.
Visited With
My vehicle
Additional Services
Work explained, Itemised invoice, Great customer service
Good Points
I always feel that whatever advice or recommendations I get from Seaspray are based on a genuine assessment of my needs
Bad Points
Parking space can be a bit of a squeeze on occassions
"Fast, professional and extremley honest"
By Very Busy Mum, 14 June 2013
Read More
Being very busy juggling work and looking after two spirited daughters, my car has become a lifeline so when I come around to the next MOT there was always a sense of fear and anxiety to whether it will pass or come with a costly bill. Having used a number of garages prior to Seaspray Motors being a woman I always found the process very confusing and ended up paying a lot more than just the MOT as I didn't understand why the repairs were necessary and to be honest I just wanted the car back on the road as soon as possible. I was recommended to try Seapray Motors from a school mum and for the first time ever I actually understand what is tested and also learnt a little more about cars which has really boosted my confidence in checking the oil and tyre pressures. I wasn't pressured into replacing or repairing parts I knew nothing about, but was just advised to do some checks periodically. I spoke to a man called Neil who was very patient and actually took the time to explain any concerns I had, which was very refreshing. If you are a car phobic like I was, I would highly recommend you at least try Seaspray Motors to see for yourself that a little patience and clarity goes a long way. One very happy mum :)
"Excellent and honest service received all at a good price"
By donnello, 6 June 2013
Read More
I had a problem with my front wipers not working. I took it in to a couple of garages and after many days without the car and spending out money on a wiper stalk to try and rectify, I was both gettng stressed and annoyed. I had my M.o.T due so I had to get the fixed and was going to bite the bullet and take it to a dealer stealer. After speaking to a friend, they recommended a garage called Seaspray Motors. I gave them a call and the person who answered seemed very and knowledgeable so I booked it in for an MoT and said that I would need the wipers looking at ( I left the part out that I had bee to other garages already). Finding them after getting directions was easy enough and when I arrived I was quite impressed of the size and the amount of cars on site which always make my happier when a garage is busy. I was nicely greeted and after a disussion it was agreed the MoT would be done first just in case an other issues may arise which I thought was quite professional. I was concerned about the cost of fixing the wipers and was reassurred when we spoke and was told if the MoT was ok, they would run a fixed diagnostic check and then contact me before going any further. After leaving the car, a couple hours later they were true to their word. I was told that for the MoT, obviously the wipers would need sorted and also that the front brake discs were lipped but because my brake pads were ok, I should make the most of the pads and replace both when neccessary. I thought that to be very honest as I know if I went to Audi, they would scare me into replacing. As for the wiper issue, by doing a simple diagnostic check they could see the wiper switch working fine so I don't know why it was replaced by the other garage. Also with their diagnostic check they had tested the motor and checked the linkage, all of which were good. We agreed that they would spend another hour as th problem could be electrical. After another hour I got the good news that the fault was a bad connection in the relay board. I was so relieved and asked myself why I didn't know about this garage at the beginning! I was so satisfied after a few months I was back for a service and brakes and received the same great service. So if you're looking for a garage you can trust, I would definitely recommend!
Visited For
MOT, Servicing, Repairs
Other Good Garages near here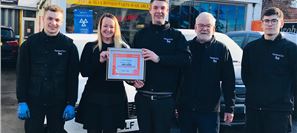 Thorobred cars, Staines
Read More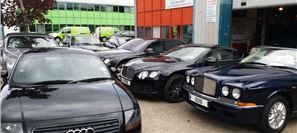 DNA Technical Services, London
Read More
Service & Repair With Confidence