Focus on: DNA Technical Services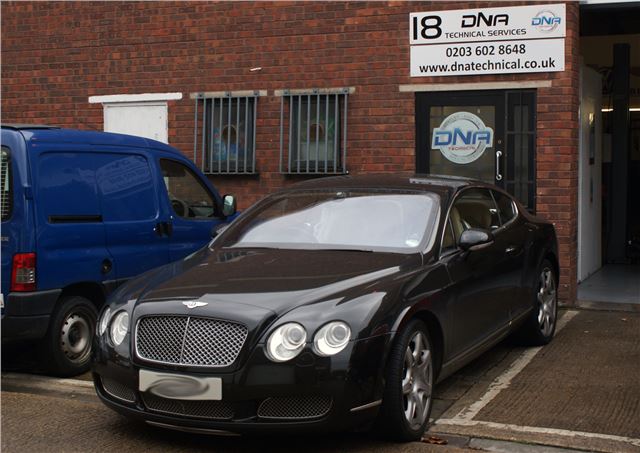 A quick look at the Good Garage Guide entry for DNA Technical Services reveals positive comments and plenty of good reviews. Customers say that the staff are "...extremely knowledgeable and reassuring" and that they are "...more interested in the challenge of fixing a problem then how much money can they charge."
The small team, lead by Dave, has more than 20 years of experience working for main dealers and specialises in Mercedes-Benz, Audi, Bentley and Volkswagen models. After reaching the top of the ladder at previous garages the team set up for themselves in a small but clean and well equipped garage in South West London, near Battersea Park.
The reception area is adorned with many certificates from manufacturers and upon our arrival we were greeted with a smile. When we visited the workshop there were two Bentley Continental GTs and an Audi TT in for work, all adorned with protectors on the wings to keep dents out and grease off. When asked what DNA does differently, Manager Dave told us: "Our quality and standards are high. We have the same expectations as a customer does."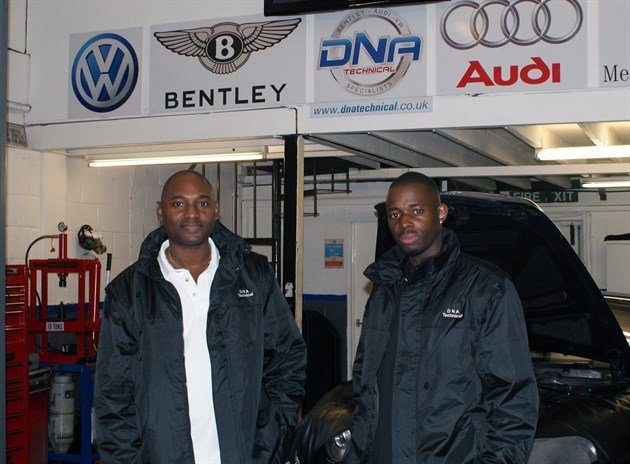 The majority of the DNA's work is repair based, rather than the usual servicing. That's not to say they believe German cars, in which they specialise, are unreliable and are in constant need of repair work: "German cars are more solidly built, and as long as they are serviced regularly they're reliable." Dave and Nicky, pictured above, were keen to emphasise that they solve problems using their heads rather than relying solely on a diagnostic computer - although they do have that equipment too. 
One of the reader reviews explains: "The fault was originally diagnosed and repaired at a previous garage. Even after the repair the light kept coming back on. David checked the fault during my service and confirmed it was due to build up of carbon on the inlet manifold  - the previous garage replaced the throttle body! David ordered the part and I had the new manifold changed under warranty."
DNA Technical Services is a relatively young business, having formed in 2011, but thanks to a professional attitude and the ability to get things done properly a lot of customers have come back. Business is going well, and so bigger premises might be on the cards, but Dave was keen to point out that: "We get a lot of repeat customers so we'll keep the quality there – that friendly, local garage mentality, so customers can still come to us and know our names."
DNA does offer servicing, too, and was keen to point out that only genuine parts are used and everything is done in accordance with specifications laid out by manufacturers and EU regulations, so warranties should remain valid for most work.
If you'd like to know more about DNA Technical Services, get in contact to book a service or repair or see the reader recommendations then click here to visit their entry in the Good Garage Guide. 
Service & Repair With Confidence