Focus on: Cory's Car Repairs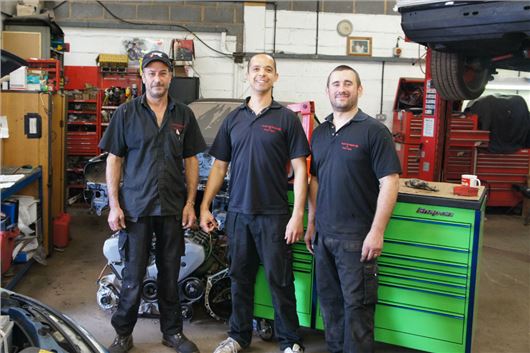 Published 10 July 2014
Cory's Car Repairs, in Rugby, is rated number two in the West Midlands on the Good Garage Guide, but it might never have existed if it wasn't for Cory Smith overcoming the odds back in the 1990s. When diagnosed with a back problem, Cory thought he might never be able to work in a garage again, but with help from the Prince's Trust he set up his own business so he could work his own hours.
Good service led to plenty of word-of-mouth recommendations, which in turn led to expansion and now, in 2014, Cory's Car Repairs occupies two units, with two mechanics plus Cory himself. It specialises in diagnosis and repair, along with high-performance project car builds, especially for older BMW models like the E30 3 Series.
The team embraces modern technology to make life easier for customers. Every step of each job is documented by camera phone, with photographs emailed or texted to customers so they can see exactly what is being done. This also means they can clearly show any additional problems that have emerged.
Cory told us that he won't let the team do a botch job in order to save customers money. If work needs doing then it'll be done properly in order to keep the car in tip-top, safe condition. Sometimes that means using more expensive parts – and sometimes it even means turning work away.
Besides a steady stream of diagnosis and repair work, Cory's Car Repairs works on project cars for enthusiasts. The team will strip down and rebuild performance cars and even carry out tricky jobs like engine transplants. Project cars will typically stay on site for months at a time until things are finished, so there is a waiting list.
In the workshop when we visited was a 1980s M5 going through a full overhaul, with new drivetrain and suspension components installed. Alongside that was an E30 3 Series cabriolet undergoing similar work, plus an Audi 80 Cabriolet waiting for a very comprehensive modernisation. It's set to receive a new drivetrain, new suspension and a more modern, high performance engine.
Cory's Car Repairs doesn't perform MoT testing, so all work is maintenance and repair related -although the team will prepare a car and book an MoT at a local testing station. There's also a large department devoted to tyres, with the option to have tyres supplied without fitment, or to have them installed on site.
Other areas of specialisation include air-conditioning maintenance and repair, along with tracking, electrical issues and welding. One Good Garage Guide users have commented "Cory has phoned me to let me know in detail what needs doing. Being a professional automotive/mechanical engineer myself, I can quickly make a decent judgement on diagnoses."
Author

John Slavin
Latest
Service & Repair With Confidence