Highview Garage Ltd, Finchley
Services: MOT, Servicing, Tyres, Exhausts
Reviews
"Intimidating "
By Anonymous, 6 February 2019
Read More
Where do I start ...... just got back from potentially one of the worst displays of customer service I have ever seen!!!! My car failed it's MOT and yes I was annoyed, they noticed three defective tyres, my job gives me very little time to get to garages etc so my nose is well out of joint, I admit that! Decided not to get the work done with them as there is garages closer to my house and to be honest I was annoyed. The boys to be fair put it on the ramp and showed me why they felt it failed When I drove off I noticed the steering to be extremely loose and the oil light was on my dashboard that hadn't previously been there, I had asked for the oil to be topped up so drove back because I couldn't understand why it was on. The girl from the front desk called the mechanic over to have a look and out of nowhere another elderly foreign mechanic called Pete came out trying to intimidate and hold his false teeth in at the same time shouting 'yes we stole your oil of course' the other mechanic smiling like this was a usual occurrence told him to go inside Pete persisted ' You coming in here looking for trouble mate I'm telling you your coming here looking for trouble, I'll give you trouble' So with Pete seemingly offering me as the customer out and seeing a police van parked at the car wash I made it clear that I'd call the police over if it continued. Pete came out again saying 'yeah we loosened your steering to that's we do here loosen peoples steering' I couldn't quite understand what was happening but I was absolutely being threatened, if he was the owner GOD HELP US if he wasn't and if I was the owner I'd keep him away from all customers just shocking behaviour from an elderly gentleman!!!!! The other mechanic asked me to kindly come back if the light was still on to reset the dash ..... don't think I'll bother...... go somewhere else potentially less intimidating ..... I'd worry that if I did go back I'd end up with less teeth than Pete! Do go to this garage if you want good advice from professionals but don't dare question their actions else Pete will get you!!!!!!! Beware of the Pete
Visited With
My vehicle
Additional Services
Work explained, Itemised invoice
Good Points
Some good advice
Bad Points
Terrible customer service
"FAB"
By Anonymous, 30 April 2014
Read More
ALL ROUND GREAT SHOP AND HONEST.
Other Good Garages near here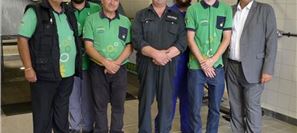 Empire Garage, Enfield
Read More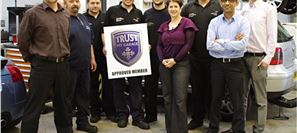 Russell Automotive Centre, Kingsbury, London
Read More
Service & Repair With Confidence