Stratstone Mercedes-Benz Of Ayr
Services: MOT, Servicing, Tyres, Exhausts
1 High Road
AYR
Ayrshire
KA8 0LL
Get A Quick Quote
Trusted, reviewed and verified garages in your area.
Powered By
Reviews
"Fantastic service "
By Anonymous, 6 June 2019
Read More
I spoke to one of the technicians called Graham who went on a road test with me . He was very pleasant to talk to thorough out the road test and explained things to me in detail. Was a very knowledgeable young man who takes pride in his job. 5* very happy with service I received from service department
Visited With
Family member's vehicle
Visited For
Servicing, Repairs
Additional Services
Car cleaned, Work explained, Itemised invoice, Great customer service
Good Points
Graham is very helpful and very knowledgeable
Bad Points
Nothing to complain about.
"The pits. Devalues the marque."
By Lynda Cochrane, 17 January 2019
Read More
Every time my partner and I take our car to this place we have problems and end up stressed. The customer service is the worst I have experienced: the only thing they care about is getting money. On this occasion, we called some time ago to arrange replacement brake disks / pads. After a two hour journey from our home, we were told the vehicle been booked in for a health check, no mention or knowledge of brake issues, and would have to wait an hour. No courtesy car or lift available. One hour later, we were informed we'd have to wait another two hours. We asked again for a lift, to a nearby branch of M&S simply food, there being nowhere else close. The wonderful driver Charlie, the only member of this outfit who treats customers with care and respect, graciously obliged, taking us where we wanted to go and picking us up again. Lo and behold, this 'health check' failed to pick up a cracked alloy, which fortunately we had ordered a replacement for yesterday. After a round trip of several hundred miles, a bill of @£1000, and a whole heap of unwanted stress, we are going to transfer our service contract elsewhere.
Visited With
Partner's vehicle
Good Points
Charlie the driver
Bad Points
Appalling customer service. Only interested in getting money, not looking after the vehicle or the customer.
"Atrocious level of problem diagnosis and repair"
By edanaeli, 15 August 2015
Read More
Survey Any Other Comments? My car was taken into Stratstone Ayr with a management light on. I paid £100 for the diagnostic check. They then said further investigation would be needed and suggested it could be a fault with the timing chain. I was shocked at this as thought that a timing chain fault on a car with 42,000 was not possible. Stratstone Ayr had the car for a week and returned it to me saying that the timing chain was not at fault, but they had fitted a tensioner on the timing chain. When I got the car back it was exactly the same as it was when they took it from me. I spoke to them and they assured me that they were contacting Mercedes Benz as they felt it could be a cam shaft problem. I have got no further with this, as they say now that Mercedes Benz are not interested, but I have since discovered I have an oil leak emanating from the area they worked on. All in all I have been left with a car with an oil leak as well as the problems which have not been diagnosed and have paid Stratstone Ayr £487 for the privilege. Have no confidence in Stratstone Ayr or Mercedes Benz at all. Will now have to find some way of getting this problem solved, having already paid Stratstone Ayr for their alleged repair. Facebook Twitter Previous Send
Other Good Garages near here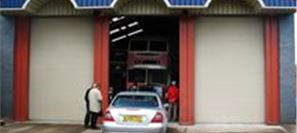 Power Transport, Kilmarnock
Read More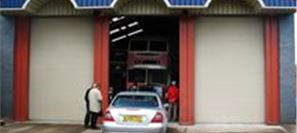 Cobb Brothers, Poole Dorset
Read More
Service & Repair With Confidence