Forge Garage, Bournemouth
Services: MOT, Servicing, Tyres, Exhausts
35 Green Road
Bournemouth
Dorset
BH9 1DX
Get A Quick Quote
Trusted, reviewed and verified garages in your area.
Powered By
Reviews
"What you'd want: No frills and I'm sure they do their best for their customers."
By Anonymous, 21 January 2020
Read More
I've felt well informed about any issues that have been spotted and am very satisfied with the quality and value for money. While another garage I used (when I bought a newer car) sent me video footage of the car being examined, offered customers a bright waiting area with free nice coffee, and they cleaned the car inside and out, even left a box of sweets in the glove box, this was 'all included in the price' and these gimmicks aren't things that matter to me. The team at Forge do a professional job on the vehicle and are very knowledgeable. The business also supports local community events (Winton Carnival etc.) and good ethics matters much more to me: A good garage should service my car not my ego!
Visited With
My vehicle
Visited For
MOT, Servicing
Additional Services
Work explained, Itemised invoice, Great customer service
Good Points
Used for around 20 years, for a range of vehicles; Ka, 7-seater Mazda and a newish hybrid still on Mfr warranty, also a minibus. 100% confident in their work.
Bad Points
It seems every time I have to go there it's below freezing outside. Not much they can do about that as I don't feel I need their courtesy car.
"Friendly, helpful, efficient, afordable, NOT made to feel foolish like other garages as I'm a women."
By Rachel Westlake, 27 November 2019
Read More
The engine light came on and car not running right. Phoned forge they thought it would be a new coil and spark plug but said the woud plug it in to double check the fault. Took car in straight away. They confirmed the problem ordered the parts had them fitted before midday with out it costing an arm and a leg Bearing in mind I arrived ad forge at 9.10am. My car is now running really really well What I thought was a huge problem was sorted in a few hours. Couldn't be happier.
Visited With
My vehicle
Additional Services
Work explained, Itemised invoice, Great customer service
Good Points
QUICK diagnosis and repair
Bad Points
Nothing every thing was great
"I would not reccomend this garage"
By Anonymous, 30 October 2019
Read More
Took my car in for my first MOT, it failed on exhaust emissions. They quoted me between £100-150, to which I agreed them to start the job. I then received a call from the garage telling me the price was going to be higher than expected, around £300. I wasn't happy with this but they had started the job already, and I needed my car back. They then called me at the end of the day when I was on my way to collect my car and they told me it wasn't done and that they would keep the price as close to £400 as possible as they were struggling getting something off. I told them I would not pay any more than that, I was extremely frustrated and did not know if they were allowed to bump the price up like this as this is my first MOT and I have little knowledge in this area. I felt very let down with the price I ended up paying, £400, and I'm not entirely sure what they even did. The man I spoke to on the phone was very patronizing. I would never go to this garage again and I wouldn't recommend it to anybody having their first MOT, especially being a female. They also left the inside of my car dirty and £4 was missing from my glove box. Great!
Visited With
My vehicle
Good Points
Not a fat lot
Bad Points
I got ripped off
"EXCELLENT SERVICE AT AFFORDABLE PRICES"
By ROY JOHN, 16 August 2018
Read More
We have used the Forge Garage on numerous occasions over the past few years and have always found them to be polite, helpful, efficient and affordable. my last trip is an example. The car went in for it's annual MOT and they found a couple of faults, one including welding the cills on each side and adjusting the handbrake. They phoned to say that the handbrake did not meet the MOT standards. Instead of getting new parts in they spent a little more time in diagnosing the problem, which rectified the problem... not many garages in this area would dothis I highly recommend this garage to anyone in the area.
Visited With
Partner's vehicle
Additional Services
Work explained, Itemised invoice, Great customer service, Online booking
Good Points
They carried out an MOT on our vehicle and found a few faults. They didn't overcharge
Quality of Service
"Would never use again"
By Anonymous, 6 August 2015
Read More
I booked my car into the Forge Garage for a water leak to be repaired. I was provided with a courtesy car for the length of the repair as I was commuting. On returning the courtesy car the manager took me outside to look over it, and noticed a scuff above a wheel arch. Before checking if this was my doing or not he publicly shouted and swore at me in the street for having damaged the car. He then stormed off saying 'follow me' and checked with a colleague whether this damage was there prior to my loan for the car. The damage had been there before I had even used the car, but the manager failed to apologise for his outburst and simply told someone to show me to my car. As a lone female customer I feel this is the worst possible service I could have recieved. I left feeling intimidated and upset. When booking the work the manager had been polite and friendly, the instant he had my money customer service was so far out of the window it was hard to believe. WOULD NOT RECOMMEND. Further to this the turbo on my car has never worked since being in their garage, a problem I had never experienced before.
"RUDE, CARELESS, SELFISH, HEARTLESS"
By DEADMAZDA6, 20 September 2014
Read More
I would never recommend this garage to anyone, stay away! Took my car in for a GOLD service, a month later the car broke down due to the wrong size water pump being fitted! They agreed to take the car in a repair it, took 10 weeks to give it back to me, when i got the car back it was a bag of ****, and broke down again a mile down the road. They refused to come out and have a look, refused to help me in any way, promised me things and didn't deliver, lied to me for 10 weeks, i received no compensation what so ever, they gave me an unroadworthy car back, now my car has been scrapped as i cant afford to have someone repair the damage they have caused. A BAD company stay away!
Expertise
Quality of Service
Speed
Helpfulness
Value for Money
"If Carlsberg made a garage it would probably be The Forge!"
By ian ferguson, 5 July 2014
Read More
My car broke down on the way to Bournemouth while we were travelling down for a 5 day break and was towed to our hotel. The clutch had gone.I contacted The Forge garage next morning and spoke to Gavin who booked my car in straight away. I was instilled with confidence immediately by his 'will do' attitude and friendliness.The friendliness of the staff was amazing. I was kept informed by Gavin as to how the work was progressing and the work which was required.The garage really did relieve the stress of the situation (2 x 80 plus parents with us) and as a result we were still able to enjoy our 5 day break. The garage is very clean and tidy. The staff are very friendly. The work was carried out to a very high standard and at a very reasonable price, and in our case, very promptly. I wish this garage was near my home! I would use it every time. I can't thank Gavin and his team enough.
"Trustworthy Garage with genuine approach to repairs and pricing."
By marcosline, 2 April 2013
Read More
Have used this garage on a number of occasions over the years for my van and my wives car ,we always feel they like to get you through the Mots and repairs if needed quickly and efficiently.
Other Good Garages near here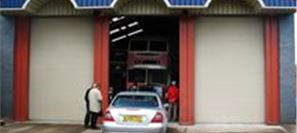 Library Road Garage, Poole
Read More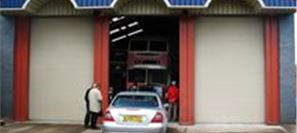 Ringwood Motor Company, Ringwood
Read More
Service & Repair With Confidence