Services: MOT, Servicing, Tyres, Exhausts, Accident repairs
Reviews
"Friendly, looks after you like family, very honest about what needs to be done. Kind hearted people, my permanent garage from today onwards for sure ??"
By Sharmin Begum, 17 June 2020
Read More
On Friday 12th June, a scooter or bike side swiped the rear right side of my car and left the plastic cover above the tyre hanging whilst breaking the snaps in place as well as pushing the back bumper over the top part of the body and scraping the paint off as well. I went in on a Saturday at 1:00pm and met Mark. He greeted me and I was welcomed with such warmth. He offered me a beverage before we got talking about what the issue was. He was very patient while he listened to me. He proceeded to take some pictures with a camera and called an employee who does bodywork called Lucas. He looked at the damage done and fixed it within 10 minutes there and then and replaced the snaps too. Mark then painted the spot where the paint was scratch off and told me to come back on Monday anytime to get it sanded down and buffed and polished. I asked Mark how much I owe him and he politely declined as he said he doesn't charge for such minor work, but I insisted again and again that I cannot leave without paying. He again politely declined. I was shocked but grateful and I thanked profusely. I came back on Monday to get the paint sanded, buffed and polished and it looks absolutely fantastic. I again asked how much it'll cost for the sanding down, buffer and polish, and Mark politely declined again. At this point I was flabbergasted because that's two jobs in the space of a couple of days for not a penny. I am extremely pleased with how I was treated by this garage, and purely for the honesty as well. I am glad I have found this garage thanks to my cousin who also works there. This will for certainly be my garage from here on out. I am grateful to have met such an honest man who treated me like family, literally. Highly recommend this place, especially women as I know we tend to get talked over or scammed by some garages, as I have experienced myself the past few years so I usually get my brothers to take my car to get whatever needs to be done. 10/10 service ???? Thank you to Mark heavily ??
Visited With
My vehicle
Additional Services
Work explained, Great customer service
Good Points
The honesty and how well they looked after you.
"Fantastic garage. Great value for money. "
By Anonymous, 16 December 2015
Read More
I have visited this garage for my car mot and service. I was really impressed how efficiently they work. My service was done very well and all problems/issues pointed out. No hidden costs and honest explanation what needs to be done.
Visited For
MOT, Servicing, Repairs
"Fantastic service, great prices"
By BluebirdBroom, 8 July 2013
Read More
My car wasn't running very well and I didn't want it to overheat in this weather so I booked it into Auto400 after getting a leaflet through my door. Great service, really pleasant staff and my car is now running smoothly.
"The solution to all my motoring problems"
By nickster, 22 November 2011
Read More
When my beloved mini started to go wrong I started to fear the worst. They may be a great car, but they are not cheap to service or repair. Things only got worse when I did a bit of research on the net. The car wouldn't change gear from 3rd to 4th and 4th to 5th, and all the evidence was pointing towards a new gearbox. I rang Auto400 and the staff could not have been more friendly. After asking some background questions they sugested I bring it in. To cut a long story short, they explained that this may simply be a computer problem - which indeed it turned out to be. I cannot fault the service they offered. They kept me informed at every stage of the process and ultimately managed to fix ther problem for a fraction of the price I was expecting to pay, even though it would have been very easy for them to replace the gearbox. They are honest, trustworthy and efficient. I can't fault the service they offered and they will certainly be my first port of call for any further motoring problems I encounter.
Other Good Garages near here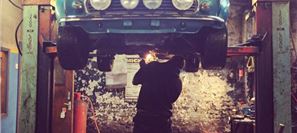 Hearn Bros Ltd
Read More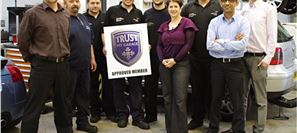 Russell Automotive Centre, Kingsbury, London
Read More
Service & Repair With Confidence