Greenoaks Mercedes-benz Of Slough
Services: MOT, Servicing, Tyres, Exhausts
273-283 Bath Road
SLOUGH
Berkshire
SL1 5PR
Get A Quick Quote
Trusted, reviewed and verified garages in your area.
Powered By
Reviews
"Great experience! "
By Haresh Asher, 7 December 2018
Read More
I visited the Slough Mercedes garage in November 2018 with the intention of just having a look at the cars on offer. On the same day I was impressed so much with the GLA model and the customer service I experienced, that I ended up buying my first Mercedes. I am very happy!
Visited With
My vehicle
Additional Services
Car cleaned
Good Points
Knowledge of staff member I spoke to (Vishal) was excellent. Enjoyed the whole experience of buying my first Mercedes from start to finish.
"An absolute disgrace"
By Anonymous, 26 May 2018
Read More
One of the most unprofessional garages I've ever visited. Lost a day's work having left my car with them for 6 hours only to have called 5 times to be put through to a call centre and no update and then at the umpteenth hour told they have done jack diddly squat to diagnose it!! What a joke of a garage. Worst part is that the complaint I made following their service failure has not had the courtesy of being resolved or even a courtesy call to inform me that they are even dealing with it. My suggestion is to honestly avoid. I've thankfully found a great Mercedes specialist garage in uxbridge, Trident Autos! Amazing customer service and I'm sure they link in with merc online service
Visited With
My vehicle
Visited For
Diagnostic and Servicing
Good Points
Nothing whatsoever
Bad Points
Customer service and massive unprofessionalism
"unprofessional and behaved like cowboys"
By Anonymous, 19 April 2018
Read More
Summary of the very poor and unprofessional service given by Greenoaks receptionist and service technician. Car had a 'battery draining' issue caused by rear cluster of lights remaining 'on' after car was switched off. Car taken to Greenoaks (car normally serviced by them). They diagnosed a battery problem (quoted £99 for diagnostics and £300 for replacement battery. 2 years prior to this Greenoaks had replaced battery - cost £145). Because of the 'low' mileage driven, Greenoaks didn't honour the battery warranty. Due to the rip off price quoted for new battery and having had to pay the £99 'diagnostic' charge decided to take car to an independent MB specialist. Their diagnostics confirmed the Signal Acquisition Module (SAM) was the problem and not the battery. Unit replaced and car has been working perfectly since the repairs (a quick Google search gives lots of hits about known issues with the SAM). Even with the low mileage driven, car starts every time. No 'battery' issues during the recent bad weather!. As a result of the poor and rude response from Greenoaks, complained to MB UK Customer Services raising a number of issues. Received a generic response without addressing the issues raised and defending the highly trained Greenoaks technicians who followed the 'correct' diagnostics process. Follow up correspondence still failed to address the issues and explain why since the replacement of the SAM, the battery was functioning properly. MB refused to entertain any compensation including refund of £99 charged by Greenoaks for useless diagnostics. I potentially saved the £300 cost of a battery which won't have fixed the problem and could have incurred further charges for a 'trial and error' repair by the highly trained MB technicians.
Visited With
My vehicle
Good Points
Nothing based on my last visit
Bad Points
Lack of customer service and a rip off
" Yes the management was bad a few years ago, but now they are up to the Mercedes Standards and the service department now outshines the establishment"
By Anonymous, 3 April 2018
Read More
Things have improved drastically over the past 2 years in the service department excellent . Still will not buy my new Mercedes from the ignorant sales people. I am due to replace my S Class soon.
Visited With
My vehicle
Additional Services
Car cleaned, Work explained, Itemised invoice, Great customer service, Pick-up and collection
Good Points
I have been using this garage for the past 22 years plus. Must be good and reason why i take my cars for Services only and not purchasing
Bad Points
The attitude of the sales personnel in the past, ignorant, un helpful not worthy of Mercedes Benz. That is the reason i went to another dealership for my and my wife's car
"Helpful, fast and customer friendly"
By Pamela Mason, 2 May 2017
Read More
My CLK failed it's MOT (elsewhere) on the Thursday before the Bank Holiday weekend. I rang, explained the problem and it was booked in for the NEXT DAY, despite having to order a part which they needed to see the car to identify. Becky in service reception was charming and helpful. She kept me informed throughout, and I picked the car up on Friday afternoon, repaired, cleaned and in time for the weekend. Outstanding service! I will be back.
"Cowboys"
By ranjit narula, 5 December 2016
Read More
I would stay away from them and couple of people I have spoken to say the same. They mis diagnosed a problem with my car which I thought was a warranty issue which lead me to a huge expense of nearly £2000. They are refusing to refund the £300 they charged me for the the so called diagnosis of the fault saying they need to be paid regardless of whether their diagnosis was correct or not. Clearly a big blotch on the reputation of a brand such as Mercedes.
"Grumpy Service Managers"
By GeneralGripes, 10 May 2016
Read More
Have used this garage for 7 years or so for all my servicing and repairs. The work was satisfactory and the Service Managers were brilliant. Over the last couple of years the service managers seem to have become surly and disinterested. I have called them a few times during this period for information, servicing etc. and all I can say is that they are now extremely unhelpful and unprofessional in their approach to customers in that one instance a few months back prompted me to complain. Nothing has changed and I am really disappointed with the set up. I have little or no confidence any more and am reluctant to waste my time calling them. I suggest go elsewhere until they put their act back in order.
"Cowboys"
By jfhbur, 28 May 2014
Read More
Had used them once previously and the service was very good. Took the car in for a B service and some work on the command system. Upon collecting the car, the service Manager tried to charge me for damage to the loan car which was to small to see, I then decided to check my car only to find a big dent in the rear bumper! Called him over, "we never did that" get the check sheet says I. "Oh there's no damage marked on it" so what are you going to do about it? "I'll have to talk to my boss" issue is now with Mercedes HQ.. Suggest that you avoid them..
Other Good Garages near here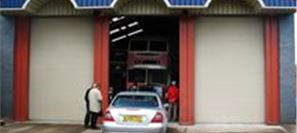 Graysheen Garage, Gerrards Cross
Read More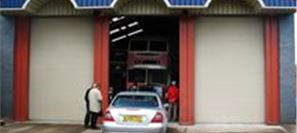 Forge Motor Company, Cookham
Read More
Service & Repair With Confidence