Services: MOT, Servicing, Tyres, Exhausts
Unit 4 Twin Bridges Business Park 232 Selsdon Road
SOUTH CROYDON
Surrey
CR2 6PL
Get A Quick Quote
Trusted, reviewed and verified garages in your area.
Powered By
Reviews
"services department are not reliable there agents want to get more money from you from there extortionate labour costs"
By Anonymous, 9 February 2020
Read More
My opinion is to not use this garage dealership for buying or servicing they are not trustworthy to the point that Volvo has now got court cases investigating their practices!!
Visited With
My vehicle
Additional Services
Online booking
Bad Points
crafty underhand extortionate charge rate a total customer
"It went it for new alternator / battery"
By Anonymous, 20 January 2020
Read More
After sitting down with them saying I have charging problems and can you check as my battery charge light came on 2 days later sent me message on iPhone with list of problems totalling £3,311 + VAT £4045 ? On a cat worth £1.500 I need to consult family two days they rang me that they carried out the work and the car is ready for collection I said you must be joking no authorisation was given so leave the car they say I signed agreement and they offered installment plans to pay off no way I'm going to solicitors to deal with them as they have cause my family and me financial break down and further deep seated stress problems not to be trusted they are going to be in trouble with the ombudsman !!!
Visited With
My vehicle
Additional Services
Work explained
Good Points
There isn't anything sweet to say ?
Bad Points
They sent me a bill got other work £3,311?
"Not worth your time or money"
By Comillas, 26 May 2016
Read More
We just purchased a 09 Volvo S80 and decided to take it to the main dealer fo a full service, I took the car at 9 am on the 25th by 5 pm I had not heard from them so I called to check If I could I collected my car they say the car had not been serviced yet, when I asked for an explanation and why I had not been informed about it they said they have had problems and they did try call me at midday but that my phone line was busy( a lie, my phone line was free for the whole day), then they told me that my car would be ready by 10 am. Today by at 10:30 am I had to call again to see what was happening with my car, they were busy So I had to wait for a call back, they did call by with a huge list of problems adding to thousands of pounds and the other joke from this people was that they could not make the service because for the technician (that he must be a joke) could not unscrew the part to change the oil and oil filter without damaging the whole part because they said that whoever did the last service screw it too tie so if want them to proceed It would cost me just that £280, plus the rest of the things "they said" are wrong with my car. I told them to touch my car not further When I went to collect my car they told me there was not charged, really gracious of them after keeping my car for more than 24 hours and doing nothing to the car, well expect for a wash. Doves Volvo Service is a garage that most certainly I do not recommend.
"Avoid - Misinformation and very expensive"
By Steve1999, 6 January 2016
Read More
Needed a simple repair, very common issue with my model Volvo. Cost over double their original quote but they waited until they had the car and were half way through to tell me that this happens 90% of the time with that repair! I didn't believe them. £180 becomes £500. Also recommended thousands of pounds worth of unnecessary work. To top it off the location feels like a backstreet garage rather than a premium marque dealership. Its no BMW. Save yourself a lot of stress and go to an independent.
"Awful charlatans"
By Stuart999, 9 June 2014
Read More
They wash you car for you when you have a service... Problem is they put fine scratches all over your paintwork during the process. They also informed me I needed new front brake pads at approx £250 but I decided to get a second opinion. After taking the car to an independent Volvo specialist (who I had lined up to do the pads for £130) it turned our the pads aren't even half worn! These guys are very expensive and they are really bad at what they do. Do yourself a favour and stay well away.
"Overpriced & incapable of fixing anything"
By davidpz, 17 August 2012
Read More
I wouldn't trust these people to service a skateboard. I took in my 3 yr old V70 for a service to have explained to me most of the front suspension & ancillary parts needed replacing. After much toing & froing, Volvo UK made a contribution. 12 months later, when the car was being serviced by an independant Volvo specialist (found via this website - GB Autos of Worcester Park) it appeared I required some new suspension parts. Interestingly, when the parts to be replaced were inspected they came up as original fir from the date of manufacture of the vehicle. Interesting!! during the interim period, Doves alledgedly laser alinged all the wheels - although not according to the tyre specialist I took the car to immediately prior to their alignment & immediately after. And by the way, I drive over speed bumps extremely slowly & carefully. Things may have changed since my experience with them. Although as main dealer only intereste3d in fitting, not repairing parts - I doubt it.
Other Good Garages near here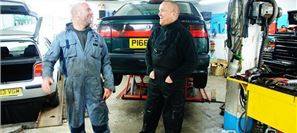 Joe's Repair Shop Surrey Saab Specialists, Epsom Downs
Read More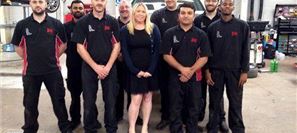 Volks Autos, Sutton
Read More
Service & Repair With Confidence