Services: MOT, Servicing, Tyres, Exhausts
1 Spar Road
NORWICH
NR6 6BY
Get A Quick Quote
Trusted, reviewed and verified garages in your area.
Powered By
Reviews
"get a second opinion far to expensive "
By Anonymous, 24 March 2021
Read More
this garage priced me 4800 to change my inlet manifold i had it recovered to another rr service centre final bill 2200 i also gave this advise to a freind who was quoted 2800 for a turbo problem he was quoted 2800 by jsf he took it to my suggested service centre the bill was 72.00 and running perfect my advise would be not to use this now overpriced garage .,
Visited With
My vehicle
"fautless"
By Anonymous, 7 May 2019
Read More
my 2005 range rover vogue had several electrical issues didn't expect it back same day.in at 0800 out at 1200. well done guys and girls. well pleased with cost of job. thanks again. Peter Fox.
Visited With
My vehicle
Additional Services
Work explained, Itemised invoice, Great customer service
Good Points
friendlyness.from lass in reception to Michael sparks technician and others'
"Utter incompetence from rude people, said I needed a ten grand gearbox when all that was wrong was a cv joint"
By Anonymous, 23 November 2018
Read More
Unbelievable incompetence from this lot told me I needed a Ten Thousand pound gearbox. I had the vehicular removed at great expense by a company I can recommend Del-Monty garage who took it straight to a 4x4 specialist in Saffron Waldron within 2 minutes of them getting it on a ramp something that they are adamant JSF did not do I am told a front right CV joint is gone. So after over a week of total incompetence by JSF my car is fixed in a few hours under 200. Couple this with the rude abrasive manor they have I can say stay well clear.
Visited With
My vehicle
Bad Points
the service manager's manner and the total incompetence
"Competant,Polite & Experienced"
By fredsam, 13 June 2014
Read More
Had problem with our Discovery, phoned and asked for advice & they were very helpful. I spoke to Steve the first time & Micahel on the second occasion. I am a manager in the trade and sometimes, you need to speak to the people who understand the characteristics of the model.I took the vehicle in on a Saturday morning, Michael took it for a test & carried out some diagnosis. the diagnosis he gave me was obviously spot on. Michael fitted the part & tested, gave me the keys and said try it now = different vehicle. These guys have the experience for these vehicles & I am very happy to recommend them. Whilst I was waiting, many customers came in, they had a great banter with the customers and obviously they are repeat customers. Well done Steve,Michael & Simon This was the first time I had dealt with JSF & it won't be the last.
"Clueless and incompetent"
By bluebirdandcanary, 31 July 2013
Read More
J S F 4x4 Ltd 1 Spar Rd Norwich NR6 6BY Norwich, adj Concorde Road (Unmarked) Automative 3 reviews 2 Google user reviews Wow i really don't even want to give this place 1 star alas i need to so i can write this review to maybe help others. My wife took our Land rover Freelander here last week as had problems with accelerating / miss fire. One of the "Specialist mechanics" diagnosed miss fire due to a lambda sensor fault and reset saying a service was required even though the vehicle was serviced less than 4000 miles previous. COST 250 pound work diagnosis and works carried out. OK, My wife left the vehicle with them all day and collected at the end of the day only to drive no more than 25 miles before the same fault was again present!! we called the garage back who basically blamed my wife for ill describing the problem, As with many wives.... mine is not a mechanic. So, i then took the vehicle back with my wife, and was assured that a "Specialist mechanic" would test drive our vehicle and re diagnose the fault so the problem could be rectified. After a few hours we received a call informing us that the problem was in fact a faulty fuel pump and a replacement would rectify the issue Cost 240 which was a reduced rate as had previously miss diagnosed and carried out unnecessary work. Total cost to us so far near £600! We agreed as need our car and just wanted it all to be dealt with...... left the car with them and the next day were called to say the car was ready, My wife picked the car up drove less than 20 mile and guess what? That's right same fault! appalled i called the garage immediately and left an answer phone message and at 0900 this morning called back to be told i would need to take the car back for yet another diagnosis. If my car were human and this garage a doctor / hospital i fear my car would now be dead! So far my experience with this seemingly mickey mouse company has served nothing more leave a bitter taste in my mouth. I was shocked as these guys came v highly recommended I will be taking the vehicle back tomorrow and will see what is said / done if anything but hold little hope and my next course of action is to contact citizens advice and possibly A BBC programme to help with this matter. FIRM ADVICE, GET A SECOND OPINION FIRST. I will of course keep you updated as this saga continues to unfold. Hope you don't get stung like we have
"Update prior review as promised further updates to follow"
By bluebirdandcanary, 31 July 2013
Read More
Since I posted my last review, I have been in talks with the current owner of JSF 4X4 who assures me that he has instructed his staff on how to resolve this issue in a professional matter but has not yet stated what the resolution will be. All I want is the issues I took my car to the garage and paid for to be fixed I will again update tomorrow after going back to JSF 4X4 as to whether this gets resolved or remains a dispute
"Professional, efficient, unsurpassed knowledge across all land rovers not just modern models, simply the best!!"
By diamondblack, 31 July 2013
Read More
This is a first for me as I don't usually bother with reviews but after experiencing first hand the exceptional service and expertise JSF offer I felt compelled to. Until recent years I've always had a family member look after my vehicles so imagine how I felt trying to find a garage that were competent, efficient, trustworthy and local......cue JSF. They were recommended to me by a valued customer of mine after a bad experience with the dealers, who i thought were meant to be experts, so I had no hesitation in trying them. I can honestly say from start to finish I could not fault their service. Their knowledge really is something else. Any true land rover owner knows that these vehicles are far more complex than your average motor and have a tendency to throw up challenges on a regular basis ( never cheap but that's the nature of the beast ) never once have JSF let me down. I challenge anyone to find anywhere with more collective knowledge of land rovers than these guys. I also feel the need to comment on the previous review. Having grown up in a garage environment and dealing with the public every day in my work I feel this chap is your classic know it all, who after a visit to the ones who did know it all felt a bit emasculated. I happened to be in JSF this week when a burly looking chap entered complaining his vehicle hadn't been fixed properly, he seemed under the opinion he knew better. Once he realised the gentleman who was dealing with him was a walking encyclopaedia on land rovers he had to back down, he was quite simply rude and wrong. Again ten out of ten for professionalism as I wouldn't have dealt with the obnoxious man. Basically in true land rover style it was a different problem. The original was fixed and this was a different one ( even I know this happens a lot and I'm a girl!!! Ha ha. Anyway these guys are the ones to goto, real old school mechanics with a wealth of knowledge.
"The place to go for outstanding Land Rover knowledge and service from an enthusiastic team in Norfolk."
By Riggerz, 6 May 2012
Read More
I drive each week in my L/R Dicovery II from Norfolk to work in Bristol. Recently, on arrival there, I noticed a significant fuel leak. The RAC couldn't sort it on the spot, nor by taking it away to a garage overnight, supported by the Bristol main L/R dealer. Accordingly, the RAC recovered me t Norfolk; I elected to have it taken straight to JSF, who maintain the vehicle for me. I called JSF to warn of its delivery: from the symptoms, Kevin there on the phone could diagnose the fault, (one of 4 possible pipes and from these he could specify which). Furthermore, he advised that if I could get it to them by 15:00, I could have it back, serviceable by 17:30. This being Maunday Thursday, (ie the start of the Easter Bank holiday), the journey was less than straightforward: I had THREE transfers of RAC trucks, 45 minutes parked in a layby on the A14 to satisfy one RAC driver's tachograph; complete closure of the A14 due to an accident and 40 minutes stood alone with my broken vehicle in a lorry car park on the A140 awaiting arrival of the third breakdown truck. The upshot was arrival at JSF at 20:05, (having started at 09:30). JSF's closing time is 18:00, so I was close to despair at this point. I shouldn't have worried: Kevin, (the diagnoser), had waited TWO HOURS after closing for me and had prepared a courtesy car, which I hadn't even thought about. The next day being Good Friday, JSF was shut, but mindful of my need for the Disco the follwing week, Kevin had it sorted on Saturday morning for collection at noon. Incidentally, his diagnosis had been entirely correct. This wasn't the first instance of first class service and expertise I have had from JSF, in which I have (sadly!) no financial interest. I have only one word to sum them up: OUTSTANDING!
Other Good Garages near here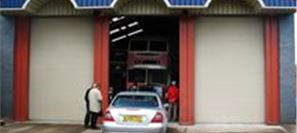 Little Melton Service Station, Little Melton
Read More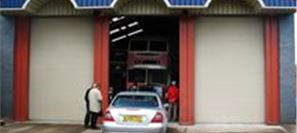 Drayton Service Centre, Norwich
Read More
Service & Repair With Confidence