How much does it cost to change a tyre?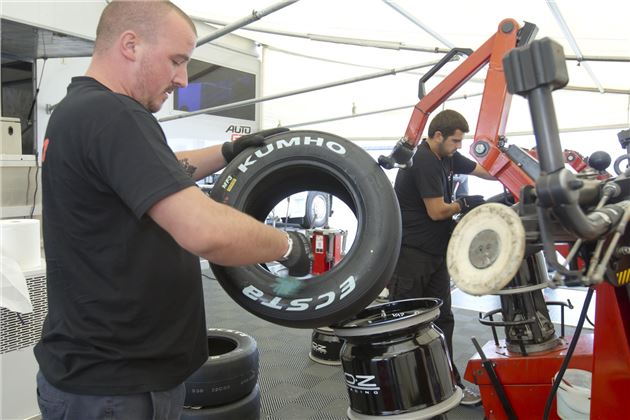 Where to buy
How much does a replacement tyre cost?
The cost of a replacement tyre will depend heavily on the type of tyre your car uses and the brand of tyre you choose. Generally speaking the smaller the wheel size and the narrower a tyre is, the cheaper it is. A smaller tyre physically contains less materials and will have a lower speed and load rating, so it will inevitably cost you less money. However, it is crucial to buy a tyre that is suitable for your car; putting budget tyres on a high-performance vehicle will not only affect the way your car drives but also potentially compromise its safety.
Below are some example costs that you can expect for an everyday tyre size.
195/65 H 15

Price including fitting

Tyre-shopper.co.uk

Autogreen Sport Chaser SC2

£38.79*
ATS Euromaster

Genesys XP1

£38.99*

Blackcircles.com

Sailun Atrezzo Elite

£39.24*

Halfords Auto Centre

Constancy LY688

£39.99

Tyresonthedrive.com

TOTD Value

£44.99
The other decision you need to make is the brand of tyre. As with most off-the-shelf products, better brands cost more money, and with something as critical as tyre choice you should go for the best tyres you can afford. Budget brands aren't unsafe - every new tyre sold in the EU must pass strict safety tests - but generally speaking they will perform less well than premium products. All new tyres must now come with a label that indicates its performance in terms of wet grip, efficiency and noise levels, which makes comparison much easier.
This comparison tables below compares some the prices of some popular retailers and comparison sites. Prices will vary depending on your tyre size, load and speed requirements.
Blackcircles.com 
Black Circles is one of the oldest and biggest online tyre retailers. It's owned by the French tyre firm Michelin these days, but still offers a wide range of tyres from all the major tyre manufacturers.
What are prices at Blackcircles.com like?
| | | | |
| --- | --- | --- | --- |
| Tyre Size | Bridgestone Turanza /B250 | Sailun Atrezzo | Michelin Energy Saver+ |
| 175/65 R14 | | | |
| 195/65 R15 | | | |
| 205/55 R16 | | | |
| 215/55 R16 | | | N/A |
| 225/45 R17 | | N/A | N/A |
| 225/40 R18 | | N/A | N/A |
Tyres On The Drive 
The USP behind TyresOnTheDrive is that they come to you. You can book online to get new tyres fitted or punctures repaired at a location of your choice.
| | | | |
| --- | --- | --- | --- |
| Tyre Size | Bridgestone Turanza /B250 | Sailun Atrezzo | Michelin Energy Saver+ |
| 175/65 R14 | £49.99 | N/A | £58.99 |
| 195/65 R15 | £54.99 | N/A | £62.99 |
| 205/55 R16 | £61.99 | N/A | £74.99 |
| 215/55 R16 | £96.99 | N/A | N/A |
| 225/45 R17 | £75.99 | N/A | N/A |
| 225/40 R18 | £93.99 | N/A | N/A |
Tyre Shopper 
Tyre Shopper is an online tyre retailer that works with National Tyres and Auto Centres to do the actual fitting (both in branch and mobile). It has a price promise that offers to beat any cheaper price found by a customer by £1.
What are prices at Tyre Shopper like?
| | | | |
| --- | --- | --- | --- |
| Tyre Size | Bridgestone Turanza /B250 | Sailun Atrezzo | Michelin Energy Saver+ |
| 175/65 R14 | | | |
| 195/65 R15 | | | |
| 205/55 R16 | | | |
| 215/55 R16 | | | N/A |
| 225/45 R17 | | | N/A |
| 225/40 R18 | N/A | | N/A |
How do I know if my tyre needs replacing?
If your tyre has suddenly gone completely flat or has lost pressure compared to the other three, there are a number of factors that could have caused it. Start by examining the tyre as best you can, looking around the sidewall for scuffs or bulges and feel around the tread area for anything sticking into the tyre.
If there are no obvious signs of damage then try reinflating the tyre. Three of the best are listed below, but you can see all of them here. If you're unsure of how check tyre pressures, you should take a look at our guide, which gives step-by-step instructions.
If there's a significant hole then it should be pretty obvious that you have a problem, but a slow puncture might take several hours or even days to go down again. Unless you happen to be fortunate and your tyre stays inflated, it is likely that it will need replacement or repair.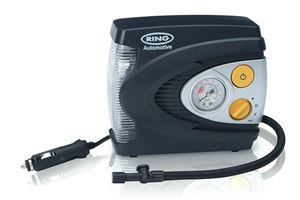 Ring RAC620 12V Analogue Tyre Inflator
A favourite tyre inflator here at Honest John, the Ring RAC620 keeps things nice, simple and effective. Another plug-and-play device, the Ring RAC620 takes a 12V feed to power the compressor with an analogue dial displaying in PSI, BAR and kg/cm2. Also included is an LED light with red and white flashing modes to attract attention in case of emergency with an adaptor set to inflate toys and bikes. For a few pounds more you can have the RAC600 version with a digital readout too.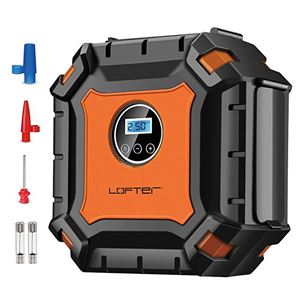 Lofter Digital Tyre Inflator
This tyre inflator from Lofter looks ready to inflate a Zeppelin thanks to its tough design and bold black and orange colour scheme, but it has more than good looks going for it. A 3m power cable plugs into your 12V outlet and it dishes out enough air to inflate a flat tyre to 40PSI in less than 5 minutes. The digital display means you can set it to the right pressure and wait for the automatic shut-off, while a switchable LED light means darkness presents no problem. Add in three adaptors and a display that operates in five different pressure units and you've got all the bases covered.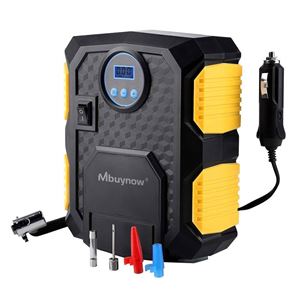 Mbuynow Tyre Inflator
Covering all the bases at a reasonable price, the Mbuynow Tyre Inflator is ready for just about anything. One of the more compact offerings available via Amazon, it still offers a 3-metre power cable into your 12V socket and has enough power to dish out 27 litres a minute up to 100PSI of pressure. The backlit digital display means accurate pressures are easy to achieve and a trio of adaptors gives you the option to blow up a variety of inflatables.
See our pick of the best tyre inflators
Does my tyre need replacing or could it be repaired?
Whether your tyre needs replacing or not depends on the damage to it, which in itself can be complex. However, when it comes to getting a tyre repaired, generally speaking this is only possible if there is a puncture in the centre 75% of the tyre tread. If it is nearer to the outside of the tyre or along the sidewall then a repair will not sufficiently guarantee the safety of the tyre, so any good tyre fitter will recommend replacement instead.
Most companies that offer a tyre repair generally do so for a fixed cost regardless of the tyre size, but it is always worth shopping around to check prices nearby. The prices below are shown as a guide and may vary depending on the nature of the repair and if it is a mobile or on-site service. 
| | |
| --- | --- |
| 195/65 H 15 | Repair price |
| National Tyres | £25* |
| Kwik Fit | |
| Tyresonthedrive.com (mobile) | £45 |
| Halfords Auto Centre | |
| ATS Euromaster | £26* |
Are part-worn tyres safe?
You may also have considered the option of buying a part-worn tyre, which are not illegal to sell in the UK if a number of regulations set out by Trading Standards have been adhered to. However, a study by TyreSafe concluded that 98% of the part-worn tyres examined during the investigation were sold illegally, and a third had damage that could render them dangerous. If you do decide to buy part-worn you should check that the seller adheres to the regulations before buying.
Ask HJ
Which tyres do you recommend for a Mazda MX-5?
In the Telegraph on Saturday you recommended tyres for an MX-5. I have a 2008 2-litre version. I was thinking of fitting Michelin CrossClimate, or similar from Continental/others. Would you recommend this move? I have CrossClimates on our 1.6l petrol Zafira, very pleased.
Not on an MX-5. It's a sports car. That's why I recommended Yokohama Advans. You could fit Cross Climates or Continental AllSeason Contacts but they won't be as much fun to drive. Blackcircles.com (https://bit.ly/2JM6bqG) for sizes and prices and read our Tyre Buying Guide (https://bit.ly/2wsFHBU)
More Questions
Further Tyre Advice
* Sometimes we show a link with a * next to it. It means that it is an affiliate link and as a result helps HonestJohn.co.uk stay free to use. It's tracked to us and if you go through it, it can sometimes result in a payment or benefit to the site.
Save 12% on GAP Insurance
Use HJ21 to save on an ALA policy
See offer
Service & Repair With Confidence