How do I jump-start a car?
We show you the best way to jump-start a car with a flat battery, how to do it safely, and what the best kit for the job is.
In This Guide
Jump Starter Packs
Why does my car need jump-starting?
The most common reason for a car needing to be jump-started is a failing battery. A good-quality car battery should last for around five years, but this can be reduced significantly depending on the usage of the car. If you don't use it often, or only use it for short journeys, you're not going to be giving it enough time to charge up. Temperature can also be a factor. As a battery gets older, it will become more likely to fail during winter – cold can be the final nail in the voltage coffin for many a car battery.
Of course, there could be more serious issues at play. The car could have electrical fault, such as something constantly drawing power from the battery when it shouldn't. Something as simple as a boot light or cabin light failing to extinguish when it should will drain a battery quickly. Failing that, it could be a case of a faulty alternator not charging the battery enough. If the battery is new, but still drains quickly, it's sure to be one of these latter issues.
How do I jump-start my car?
It wasn't so long ago that jump-starting a car needed, well, another car. This can still be the case of course. With a set of jump leads running from one car to another, you can fire your car into life. If you don't have another car, don't worry, technology is on your side. The biggest breakthrough was the jump back, often seen on a dealership forecourt. While portable, their weight and general clunkiness pushed the notion of portability to its limits. Happily, battery technology has moved on and now you can buy lithium-ion battery packs that will fit into your glovebox.
To jump-start your car, there are some rules to follow:
To jump start using car-to car jump leads:
Make sure both cars are turned off

Connect the jump leads to the flat battery first

Connect the black, negative lead to the negative terminal first (this will be indicated on the battery with a – symbol)

Connect the negative lead to the negative terminal of the other car

Connect the red 'live' lead to the live (+) terminal of the flat car

Connect the red 'live' lead to the live (+) terminal of the other car

Start the other car up, let it run for a minute

Build the revs up to around 2,500

Start the car with the flat battery

If it doesn't start, keep the revs built up on the running car for a few minutes and try again

Remove the leads by reversing the process above
Jump starting with a lithium-ion jump pack:
Make sure the car is turned off

Connect the supplied leads to the battery terminals, being sure to connect the negative (-) first

Turn on the battery pack

Start the car

If it doesn't start, many jump packs are fitted with a 'boost' button, which delivers a stronger jolt of current. Press this, then try to start the car again

Once running, remove the leads – positive first (+) then negative (-)
Which method should I use?
Realistically, the days of needing to use a pair of jump leads and another car are well behind us. With the advent of lithium-ion jump packs, there's no need to mess with two cars, two batteries and two leads. Using a small jump pack removes all the dangers such as accidentally clashing leads and so on. Just buy a jump pack, keep it charged up and if you ever end up with a flat battery, you can be on the road in a matter of minutes, rather than having to wait for the aid of another car and driver.
Our pick of jump starter packs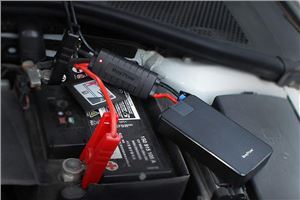 RoyPow J08 Portable Car Jump Starter
RoyPow J08 is a small jump starter, a power bank and a flashlight. You can jump start a dead battery in seconds, while the clamps offer protection against power surges, overcharging etc. The jump starter pack can jump-start petrol engined car up to 3.5-litres.
The 2.1A USB outputs allow for fast charging of phones, tablets etc and there are three flashlights modes for safety if your car breaks down in the dark. The J08 also comes with an 18-month warranty for peace of mind.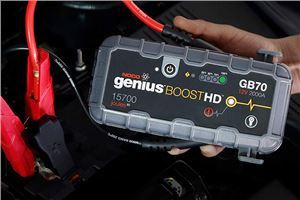 NOCO Genius Boost Pro GB150 2000A
There are numerous compact lithium-based jump packs around these days but NOCO produces some of the most highly regarded units. The GB70 is one of its more expensive offerings but it's packed with features. For starters, it's rated to put out a hefty peak power of 2000 amps  – which allows it to start petrol engines up to 8-litres or diesels up to 6-litres.
It also has integral 12V and USB connections for powering devices, an internal torch and a one-year warranty.
Buy it now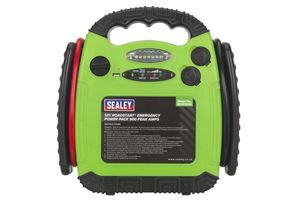 Sealey RS1312HV Roadstart Emergency Power Pack
Sealey has a long history of supplying good tools and among its extensive line-up is a range of jump packs. This RS1312HV is an affordable offering that packs a stout peak output of 900A, so it can tackle bigger engines with ease, and it also features two 12V sockets and a USB port – so it can be used to power or charge other things.
It is bulkier and trickier to charge than lithium alternatives, though, but it is a durable and guaranteed for a year.
Buy it now
Ask HJ
Can you recommend a good, small jump start pack?
I have read quite a few forum posts about jump starting modern cars (or not) using jump leads, and the (various) procedures to do it (or not), and am somewhat confused. Some say that using jump leads on modern cars could lead to ECU problems etc, others say it's no problem if you follow the correct procedure. Also some say that using jump start packs is preferable to jump leads. What is your opinion? Can you recommend a good (small/portable) jump start pack? Do batteries in jump start packs need to be recharged at intervals if not used?
A modern jump pack is smaller and lighter than an old jump pack and more convenient than jump leads. We have an Aukey jump pack (which also doubles as a top up charger for phones, etc.) in the office and it works very well despite being small enough to fit in a glovebox. It does need to be charged up from the mains now and then, but it has a charge indicator so it's no hassle.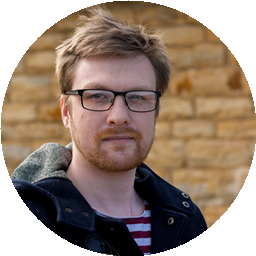 More Questions
Further Tyre Advice
Further Advice
* Sometimes we show a link with a * next to it. It means that it is an affiliate link and as a result helps HonestJohn.co.uk stay free to use. It's tracked to us and if you go through it, it can sometimes result in a payment or benefit to the site.
Service & Repair With Confidence