The MoT Files: MoT Test Results By Year of Registration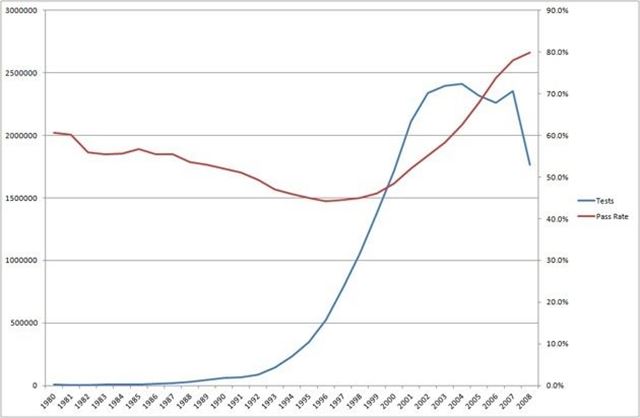 The year of registration and MoT pass rate data gives an indication of the point when cars turn from being 'old bangers' to classics. 
The pinch-point is 1996. Cars registered in this year have the worst pass rate of any since 1980, which points to this being the year when owners either scrap their cars or invest in maintenance. The pass rate increases again in 1995 and then continues to rise all the way back to 1980, though the number of tests being carried out falls significantly. There are still more than half a million cars registered in 1996 that are still on the road.
There remains more than 150,000 cars on the road that were registered in the 1980s. Out of all cars registered in the 1980s, rather surprisingly it's the Lotus Esprit that comes out on top. A 1987-registered Lotus Esprit has the best MoT pass rate of any car of the 1980s, with 87 per cent. That said, only 60 went through the test.
When it comes to the 1990s, there are still 4.6 million cars going through the MoT. The car with the highest pass rate is the 1999 Rolls Royce Silver Seraph with 96 per cent (second goes to the 1998 Silver Seraph). Other names taking the top spots are the Lotus Esprit (again), MG RV8, Ferrari 360, Bentley Arnage, Chevrolet Corvette and the Honda NSX. Restrict the search to more than 1000 tests and the Toyota Starlet puts in an appearance amongst models from Porsche, Lotus and Mercedes-Benz.
Then there's the 2000s, which as you'd expect, account for the highest number of MoT tests, despite only running until 2008. There are almost 20 million tests and it's this decade that best reflects what's on the roads now. You'll see everyday cars mixing it with those that cost more than £100,000 new. Topping the decade-wide table is the Aston Martin Vantage, though the appearance of the Suzuki Splash in fourth shows that owning a car that that's highly likely to pass its MoT needn't cost a small fortune.
Click on the links below to find out how specific models perform in that year:
See also:
MoT results for cars registered in the 1980s
MoT results for cars registered in the 1990s
MoT results for cars registered in the 2000s